News
APRIL 2019
Kalachakra Initiation in Russia
FEBRUARY 2019
Russian President Vladimir Putin congratulates Buddhists on Happy New Year
Congratulations on Tibetan New Year
Science about Religion: Dialogues of the Third millennium at the Russian Presidential Academy
Chotrul Duschen: The Great Prayer Festival of Tibet
MAY 2018
Tibet House presented a series of lectures in Ethnomir
Anushka Sharma pledges to build home for stranded animals and Dalai Lama inspired her
APRIL 2018
The Tibetans are in a live television broadcast on «Evening Moscow» TV program
Jhado Tulku Rinpoche' visit to Moscow in May
History of Tibetan Panchen Lamas lineage
Our library: "The CIA's Secret War in Tibet»
FEBRUARY 2018
Author's films about Buddhism in Asia
Congratulations on Tibetan New Year
JANUARY 2018
India opened a new Museum of Tibet
The Dalai Lama visit to the Mahabodhi temple
DECEMBER 2017
Lobsang Sengay: «Non-violence is a long way»
«Itigelov. Death does not exist». Premiere of a TV movie
Tibet House wish to all Heppy New Year and Merry Christmas!
NOVEMBER 2017
Kalachakra: History and Origin
3rd International Conference on Tibetan Medicine
SEPTEMBER 2017
Interview of Drubwang Penor Rinpoche about monastic tradition
Statement on the situation in the republic of the Union of Myanmar
AUGUST 2017
Arunachal adopts national policy for Tibetans
JULY 2017
Congratulations to H.H. Dalai Lama with the 82nd Birthday Anniversary
JUNE 2017
About VIII Bogdo Gegen
International Conference «Pandito Khambo Lama Dashi Dorjo Itigelov's Phenomenon»
MAY 2017
Buddhist Pilgrimage in Gujarat
Russian Ministry of Culture donated statues to Buddhists
Antonio Guterres congratulated Buddhists on the Vesak
Study Sheds New Light on Peopling of Tibet
Europe Regional Meeting of Tibet Support Groups Held in Latvia
APRIL 2017
Tibetan rejuvenation therapy
«Thank you India!»
What was written about Tibet 100 years ago?
MARCH 2017
Visit of Tugsey Rinpoche to Russia
Film premiere «Indian Roots of Tibetan Buddhism»
Statement of Sikyong on the 58th Anniversary of Tibetan National Uprising Day
White Paper on Tibet is published in Russian language
FEBRUARY 2017
Vladimir Putin congratulated Russian Buddhists on the Lunar New Year
Sikyong wishes everyone on Losar (Tibetan New Year)
JANUARY 2017
Visit of the Central Council of Tibetan Medicine
Dharamsala Declared Second Capital Of Himachal Pradesh
Tibetan PM-in-exile lauds Indian government's open support
DECEMBER 2016
For the attention of all guests of India: Cash money
Condolences to the royal family of Mustang
New Book «Russia, Great Britain and Tibet in the «Great Game»
Central Tibetan Administration Calls on UNHCHR to Take Urgent Action to Save Larung Gar
First Buddhist temple in Moscow will be built by the Buddhist Traditional Sangha of Russia
Guidelines for Press Registration at 34th Kalachakra Initiation at Bodh Gaya 2017
Traditional Tibetan Buddhist psychology and psychotherapy
NOVEMBER 2016
Public lecture by the Dalai Lama in New Delhi
Panel Discussion on «How important is Tibet Issue to India»
Sanctions 1.38 Crore Towards Fire Mishap in Lal Quila Tibetan Market
Sikyong Addresses 3rd India Ideas Conclave at Goa
Kashag Sanctions Rs 15 Lacs for Immediate Reconstruction of Lal Qila Tibetan Market
Sikyong Lobsang Sangay - interview for The Guardian
OCTOBER 2016
Roundtable on Buddhism in the the Russian Federation Council
Sikyong Congratulates Mr António Guterres, Next UN Secretary-General
Vice-president of Tibet House visited Dharamsala
Reshuffle in Several Top Posts of Central Tibetan Administration
SEPTEMBER 2016
Conference on Tibetan Medicine
Dr. Ngawang Rabgyal elected as new Commissioner of Justice of the CTA
Tibet House participated in the Conference on Tibet
Seventh International Conference of Tibet Support Groups
AUGUST 2016
Sikyong Addresses Officials and Staff of Central Tibetan Administration
The Third International Conference of Buddhist Women
Tsok Practise
JULY 2016
Tibet diaspora in Mongolia
The Buddhist University announces admission of students
Birthday of His Holiness the Dalai Lama XIV
JUNE 2016
Buddhist Stupa in Moscow will be saved
Kashag Announces the Portfolio of New Kalons
MAY 2016
Sikyong Announces Five-Fifty Strategy for Second Term
APRIL 2016
Final Results of Sikyong and Tibetan Parliamentary Elections Declared
Tibet House in Moscow released the Russian Edition about Panchen Lama lineage
Visit of His Holiness Gyana Vajra Rinpoche to Mongolia
Tibet House Moscow
Like other organizations of the same name in India, USA, Italy, Spain and many countries, the Regional Public Organization "Tibet House", founded in 2004, has a mission to study and preserve Tibet unique culture.
For this purpose the activities of RPO "Tibet House" in Moscow include various festivals, exhibitions, conferences and meetings the aim of which is to familiarize public with Tibetan civilization in all its aspects. The basis of many Tibet House projects is educational and social events. The important area of our activity is cultural exchange and cooperation with mass media on issues of Tibetan culture, philosophy, traditional medicine, religion, Tibetan way of life and language.
The first Tibet House was founded in 1965 by His Holiness the Dalai Lama XIV  to preserve and disseminate the unique cultural heritage of Tibet and to provide a centre for Tibetan and Buddhist studies. It has since widened its horizons.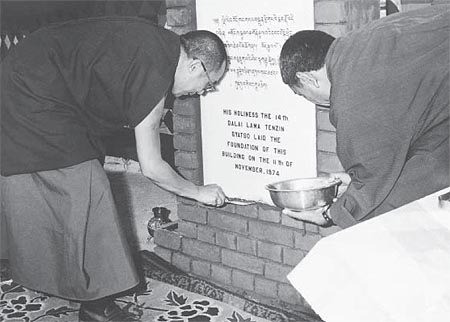 HH the Dalai Lama laying the foundtion stone for new building of Tibet House,
1974 Tibet house building at Lodhi Road, Delhi, India.
The Tibet House in New Delhi opens a gate to Tibetan culture. The activities of this centre reach beyond the circle of Tibetologists and Buddhist Masters, it integrates laypersons as well as scholars of many disciplines, artists and social activists.
The Tibet House in New Delhi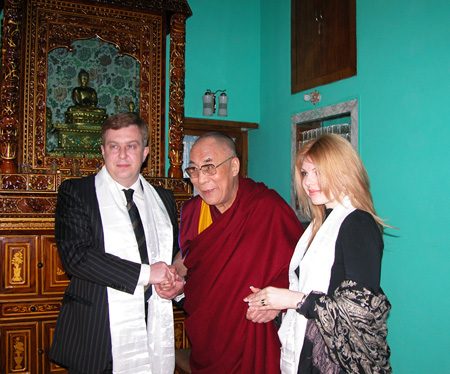 His Holiness the Dalai Lama and President of Tibet House Moscow
Elena Vrublevskaya, Dharamsala, India, 2004.
With the blessing of His Holiness  Dalai Lama  the Tibet House was founded in Moscow as its president Elena Vrublevskaya. It is intended to become a spiritual center of the most progressive representatives of the Russian society uniting well-known politicians, scientists, artists, musicians and all those who have concern in future of Tibetan culture.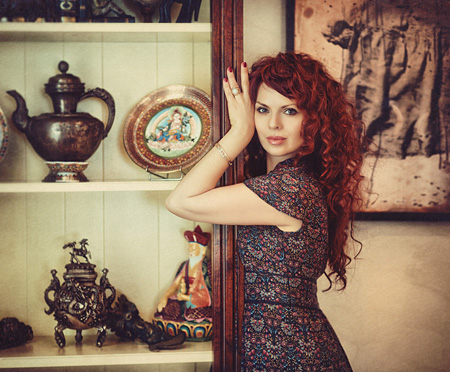 President of Tibet House Moscow Elena Vrublevskaya
In the beginning was the Word. But it didn't come from the Bible. I can't recall when I first heard it, but I remember a sense of some bottomless mystery, unfathomable and yet poignantly familiar. It echoed in me so strongly that I burst into tears… TIBET – it is not just a word, but a magical bell that has been ringing in my heart ever since. Tibetan bell is a feminine symbol, its sound represents the seed sound of creation. I followed its calling as I entered the realm of Tibetan Buddhism...
Co-founders of «Tibet House Moscow»
Co-founders of "Tibet House Moscow" (Elena Vrublevskaya Gallery and company Monks-Art) are already known in Russia as the initiators of the most considerable events, representing different sides of Tibetan culture to a large audience. During 4 years before the foundation of "Tibet House" they have been organizing more than fifty cultural programs in different cities in Russia and post-soviet space in cooperation with Tibetan monasteries Gyudmed, Copan, Gyuto, Namgyal, Tibetan Institute of Performances Arts (TIPA), and also together with Russian contemporary artists, photographers and musicians, who are inspired by Tibet.
Elena Vrublevskaya, President
Sergei Zolotarev, Chairman
Tashi, Honorary Chairman
Lobsang Tsering, Co-Chairman
Nadya Berkengeym, Vice President
Viacheslav Toloknov (1980-2016), PhD Candidate, Institute of Ethnology and Anthropology of Russian Academy of Sciences Departmebt of Asian and Pacific studies), expert of Tibet House in Moscow
Tamara Antipina, Photographer
Catherine Kosenko, Press Secretary in Siberia
Lyubov Zvezdina, Press Secretary
Tibet House Moscow