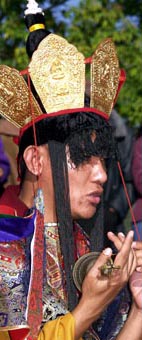 Lobsang Tesing was born in 1967 in India, in the family of Tibetan refugees, who left Tibet in 1959. At the age of twelve he became a monk in one of the most honorable monasteries of Tibet – tantric monastic university of Gyudmed. In 1996 he completed many years of studies of tantric philosophy, rituals and arts, having got the degree of ngagrampa (doctor of Tantra). Soon all the monastic community chooses him to be the administrator of the monastery and he starts to care about the well-being of the 500 monks of the Gyudmed monastery. Having worked as the administrator of the monastery for three years, Lobsang Tsering takes the decision to present the unique ritual arts of the tantric monks to the people of the western countries and to enlist their support for Tibetans, who are compelled to live in hard conditions of exile.

Cultural programs of the tour around USA, Russia and the countries of former CIS, organized by Lobsang Tsering, is of great success and includes exhibitions, lections, rituals, and of course concerts, the famous throat chanting of the monks doesn't have any analogues. Soon after it starts to sound from the stages of the most prestigious theatres, among which are Lettish National Opera and Kiev Operetta House. Lamas, who are the members of the traveling group of Lobsang Tsering, are real professionals, they know the Buddhist philosophy and ritual arts perfectly; their attention, care and love gain the hearts of people of different ages and confessions. The means collected during these years lamas give to support the monastery.

In 2002 Lobsang Tsering founds the charity organization in California "Tibetan Life Community"(TLC), the aim of which is to collect the funds for building the boarding school for the children of Tibetan refugees and for the improvement of the medical services in the Tibetan settlement Rabgye-ling, on which territory the monastery is situated. Ngagrampa Lobsang Tsering says: "His Holiness Dalai-lama repeatedly underlined, that to preserve the unique culture of Tibet it is not enough to restore the monasteries. It is necessary to take care of the secular inhabitance, which fostered and cherished the monastic tradition in this country for many centuries. We try to follow his instructions."
At the festival "Tibet" ngagrampa Lobsang Tsering gave the lectures about the "Life and arts of tantric monasteries of Tibet" and answered many questions.
- The life of Tibetan monastery (slide-show)
- The secret arts of the Tibetan monks
- Slide show about the butter sculpture and Tibetan mandalas
- How to develop compassion?
- The life of the Tibetans in the homeland and at the exile
- Tibetan book of the dead. Talk about death and dying.