With the blessing of His Holiness  Dalai Lama  the Tibet House was founded in Moscow as its president Elena Vrublevskaya. It is intended to become a spiritual center of the most progressive representatives of the Russian society uniting well-known politicians, scientists, artists, musicians and all those who have concern in future of Tibetan culture.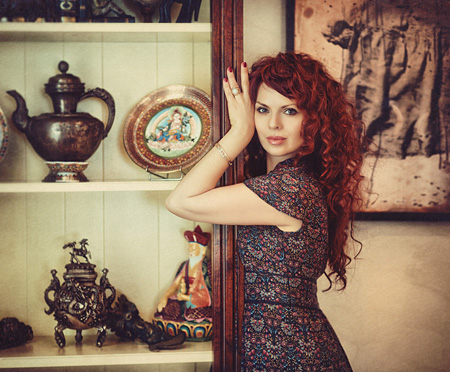 President of Tibet House Moscow Elena Vrublevskaya
In the beginning was the Word. But it didn't come from the Bible. I can't recall when I first heard it, but I remember a sense of some bottomless mystery, unfathomable and yet poignantly familiar. It echoed in me so strongly that I burst into tears… TIBET – it is not just a word, but a magical bell that has been ringing in my heart ever since. Tibetan bell is a feminine symbol, its sound represents the seed sound of creation. I followed its calling as I entered the realm of Tibetan Buddhism...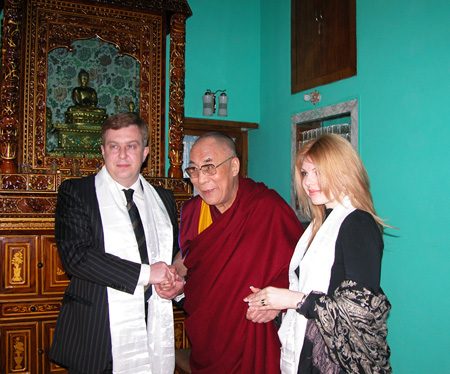 His Holiness the Dalai Lama and President of Tibet House Moscow
Elena Vrublevskaya, Dharamsala, India, 2004.
Co-founders of «Tibet House Moscow»
Co-founders of "Tibet House Moscow" (Elena Vrublevskaya Gallery and company Monks-Art) are already known in Russia as the initiators of the most considerable events, representing different sides of Tibetan culture to a large audience. During 4 years before the foundation of "Tibet House" they have been organizing more than fifty cultural programs in different cities in Russia and post-soviet space in cooperation with Tibetan monasteries Gyudmed, Copan, Gyuto, Namgyal, Tibetan Institute of Performances Arts (TIPA), and also together with Russian contemporary artists, photographers and musicians, who are inspired by Tibet.
Elena Vrublevskaya, President
Sergei Zolotarev, Chairman
Tashi, Honorary Chairman
Lobsang Tsering, Co-Chairman
Nadya Berkengeym, Vice President
Tamara Antipina, Photographer
Catherine Kosenko, Press Secretary in Siberia
Lyubov Zvezdina, Press Secretary
Tibet House Moscow