RENEW PROJECT
Respect, Educate, Nurture, Empower Women

RENEW project is Enabling people to take responsibility for the situation of disadvantaged women and girls of Bhutan. Motivating society to confront the situation through collective action there by giving them an opportunity to realize their potential.
Providing an opportunity for everyone to participate in translating RENEW's mission into reality within the context of their lives. Believing in partnership - as a donor, volunteer and friend of RENEW.
Vision:
RENEW envisages playing a lead role in shaping the future role of women in the Bhutanese society.
Mission:
The mission of RENEW is to better the lives of disadvantaged women and adolescent girls in Bhutan by developing their potentials as economically and socially productive members of the society.
Formally established in 2004, RENEW was founded by Her Majesty the Queen Ashi Sangay Choden Wangchuck - in response to the needs of disadvantaged women and adolescent girls she encountered while touring regional areas of Bhutan.
Message from Her Majesty Ashi Sangay Choden Wangchuck, President and Founder of RENEW
Bhutanese women are slowly beginning to understand that violence is not meant to be a part of their lives. The issue of domestic and sexual violence has gained better focus in the recent years. New cases come to our attention almost every day.
Since the establishment of RENEW in 2004 the Organization has gained valuable insight into the lives of women who have been let down physically, mentally, emotionally and economically. Some of their experiences have been incredibly moving.
RENEW's commitment to building strong supportive communities and promoting peaceful relationships at the individual, family and community levels has received a positive response both at home and abroad.
I commend the excellent initiatives of various volunteers and friends of RENEW and acknowledge the generous support of friends both nationally and internationally.
While the progress is encouraging we need to enhance efforts to secure a future where our women are safe from violence, abuse and ill health.
Home is for love and happiness, not for violence!

RENEW offers women and young girls the chance to have a new and better life, and you can help. As an independent, non-profit organization RENEW depends entirely on funding and assistance from individuals and organizations to finance its activities.
You can become a donor to RENEWs Endowment Fund!
Raven Circle -
Donation above Nu. 10,000,000 (USD 250,000)
Takin Circle
Donation above Nu. 1000,000 (USD 24,000)
Blue Poppy Circle -
Donation above Nu. 100,000 ( USD 2500)
Cyprus Circle -
Donation above Nu. 10,000 (USD 250 )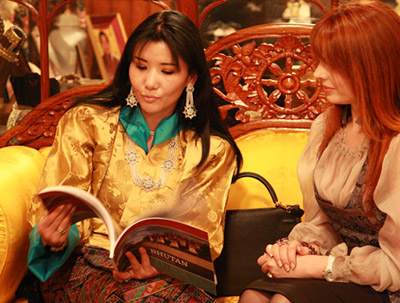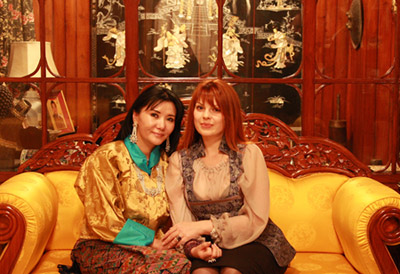 Her Majesty Ashi Sangay Choden Wangchuck and Elena Vrublevskaya
How to donate?
Become a Friend of RENEW and support the RENEW Secretariat to implement their programs.
Financial contributions can be made via Bhutan National Bank, Thimphu.
To transfer money from outside Bhutan please request your bank to remit the following to:
Bhutan National Bank A/c No: 36023474 Citibank N.A 111 Wall Street 19th Floor New York, NY 10043 Swift Code: CITIUS 33 ABA No: 0210-0008-9 Chips Routing Number 008
Ultimate Beneficiary Account No: 5000001373013 of RENEW Secretariat, maintained with Bhutan National Bank, Thimphu.
Contact us at :+975-2-332159 or e-mail us at renew@druknet.bt
RENEW Secretariat
Tel: + 975-2-332158/332159
Fax;+975-2-332411
Web: www.renew.org.bt
PO Box 1404
Thimphu Bhutan
Photo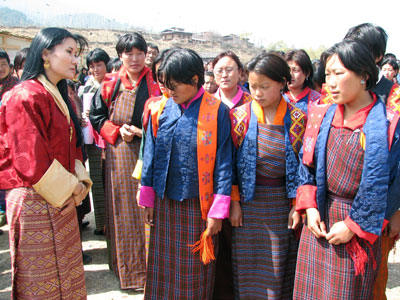 Her Majesty with women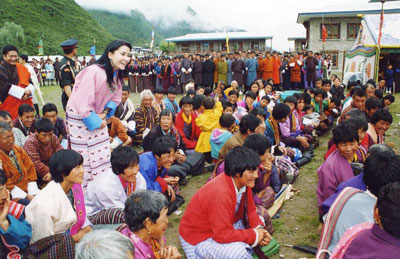 HM celebrating IWD with people