Tibet House in Russia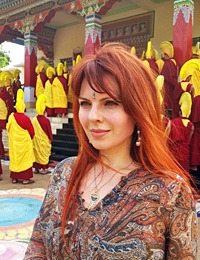 In the beginning was the Word. But it didn't come from the Bible. I can't recall when I first heard it, but I remember a sense of some bottomless mystery, unfathomable and yet poignantly familiar. It echoed in me so strongly that I burst into tears… TIBET – it is not just a word, but a magical bell that has been ringing in my heart ever since. Tibetan bell is a feminine symbol, its sound represents the seed sound of creation. I followed its calling as I entered the realm of Tibetan Buddhism.
I was still in high school when I read "Magic and Mystery in Tibet' by Alexandra David-Neel. That book gripped my imagination and wouldn't let go. I knew without doubt that one day I will find myself in that world of infinite possibilities where the visible and the invisible coexist side by side and people can work miracles. When I was a student of psychology, I would compare psychotherapy techniques with Tibetan practices – for all their differences they had something in common, only the former helped people to cope with life while the latter imbued it with new meaning and depth. Eventually, I reached the point where Buddhism stopped being just a beautiful concept I treasured and made its way into my daily life. This happened when I set up an art gallery that became a magnet for the artists who practiced Buddhism and some exciting people who travelled to Tibet.
This time I embraced Tibetan Buddhism through its art – a unique phenomenon seeing that in Tibet secular art is nonexistent. All artwork created by Tibetan masters is purposefully religious. It will never occur to a Tibetan artist to paint just a pretty landscape if it is not part of spiritual practice. Only those subjects that point to enlightenment are worthy of being depicted on canvas or shaped into sculpture, dance, or even a modest tea cup that is always imprinted with mantras as a prompting for those who aim to stay on course.
This approach came to resonate with my world outlook, and in the year 2000 I invited Tibetan monks to come to Moscow. Their visit was part of an art project at Moscow centre of contemporary art where for ten days they held concerts of overtone chanting and built sand mandalas. Yet for me it was not only my first successful Tibetan art project, but also a major personal highlight. At the end of their visit I received initiation in the Gelug tradition – a school of Tibetan Buddhism founded in 14th century by Je Tsongkhapa with special emphasis on ethics and in-depth study of Buddhist philosophy. Later I went on to study with the masters of this school who also taught me about symbolism and composition of Tibetan tankas that have so much in common with the visionary art. Those tankas felt both very alien and very familiar. They seemed to open a treasure casket deep inside me, and I was longing to share their contents with everyone. It wasn't too long before I was given such an opportunity…
In 2003 I invited Robert Thurman, a well-known American tibetologist and an expert on Himalayan art to read lectures at my gallery. I wrote him a letter and expected to become involved in a long correspondence, but two weeks later I received a call and a male voice said: "This is Bob Thurman. I'm in Moscow. I have two hours and I can come to your gallery." He arrived with his wife and we sat down to talk – well, that talk continued for the next three days all over Moscow, and we only parted company to get some sleep. By that time I had already quite a few ongoing projects with Tibetan monks. We also organized Free Tibet Concerts with Russian musicians. And so Thurman said: "If you are already so busy with all this, why don't you do it under the brand name of Tibet House?" He promised to have a word with the Dalai Lama and see what he thinks about this idea. Soon my husband and I sponsored a big project – the construction of the Kalachakra Mandala in Moscow, and later on we were granted an audience with His Holiness. Needless to say that he approved of the idea to set up Tibet House in Russia that has within it three republics where they practice Tibetan form of Buddhism. "It is extremely important, – he said, – to familiarize Russian people with Tibetan civilization – with its culture, philosophy, religion, and lifestyle." Thus the Daila Lama gave his blessing to the Tibet House in Moscow that was founded in 2004.
In October 2004, the Tibet House undertook its first major project, an international festival "Tibet: traditions, art, philosophy". I invited Richard Gere to come to Moscow with his "Pilgrim" exhibition – a series of photographs taken during his travels in Tibet, India, and Nepal, as well as monks from Gyudmed Monastery who took four months to create two-meters-high butter sculptures depicting Buddhist saints and deities. The festival programme also included an exhibition of sacred Buddhist relics, Robert Thurman's lecture on Buddhist culture, an exhibition of Tibetan Medicine and Astrology Institute "Men-tsi-khang", an exhibition "Masks of the Dancing Lamas of Tibet", and a display of Tibetan dolls. And that was just the first step.
I feel intimately connected to the aesthetics of Tibetan culture, its powerful spiritual core, and many-layered levels of existence intricately interwoven with each other and with our own world that seems so real. Tibet is such a major presence in my life – it is my source of inspiration, a hypnotic energy, an endless field of research, and a way of channeling my energies and efforts. Tibetan culture is an extension of a Tibetan bowl with its powerfully clear sound that can infiltrate into the cluttered treasure houses of our souls to help sprout live seeds of creation. I hope that this sound will echo for all of us throughout the eternity.
Elena Vrublevskaya,
president of "Tibet House" in Russia
2013