"Huun-Huur-Tu" (Tuva)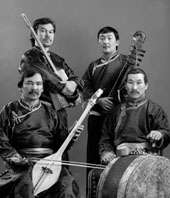 Tuvinian group "Huun-Huur-Tu" is undoubtedly for already 10 years is the most famous musical project of all former USSR in the world (not taking into account the performers of classical music and pop-duet "Tatu").
Music of Huun-Huur-Tu" is unique, magic; it absorbed all the heritage of Tuvinian folklore, tradition of throat chanting, and it develops this inheritance. The group is the elite of the world music of the planet. Since 1993 the group took part in almost all big jazz and even rock world music festivals, it gave around thousand concerts on all the continents, made 16 concert tours around USA and Canada, many times performed in all the countries of Europe, Japan, Australia, Mexico, Hong Kong, Singapore, Malasia,. The group's' nine albums are popular in the world as well as more than ten joint works of "Huun-Huu-Tu" with other musicians. The group recorded disks and performed together with the outstanding artists of different genres, such as Stevie Wonder, Frank Zappa, Ry Cooder, Kronos Quartet, Mickey Heart and Bob Weir (Greatful Dead), Johnny "Guitar" Watson, Shankar, Trilok Gurtu, Fun-Da-Mental, Bulgarian Voices Angelite and others.
In all well-known musical encyclopedias "Huun-Huur-Tu" is called the most outstanding musical phenomenon of Russia for the last decade.
"Huun-Huur-Tu" by no doubts is not limited within folklore genre frames. Not in vain New York Times newspaper roomed the last New-York performance review of the quartet in the "pop-music" column ( together with Page-Plant). And in Greece the group is solidly in the list of the most popular artists, and the song "Eki Attar" performed by "Huun-Huur-Tu" for a long time kept the first place in the national pop-charts.
Exhibitions of festival «Tibet-2005»