Master-class on Buto dance and performance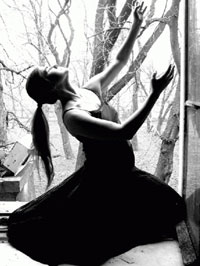 January, 28th, 2008
Master-class on Buto dance and performance of Grigoriy Glazunov and Natalya Jestovskaya (ODD-DANCE theatre, St. Petersburg) in Tibet House Moscow. January,28th , 2008. Beginning at 17.00
It's impossible to start a movement and to complete it. One can only go in or go out of it. The question is how and when and what for to do it. What happens when inside the dancer (actor, artist or just a man) a movement is born and how does it become visible and perceptible by others?
The body has its own inner space. We relate here our reflections, figurative raw, experiences, dreams, fears and reminiscences. Outer space and inner space are limited with the shell of the body. That means, body is a border between inside and outside, it is the instrument of transformation of the inner to the outside and backwards. When this instrument is well tuned, any dancer's movement becomes understandable, adequate and rich.
About masters
Grigoriy Glazunov and Natalya Jestovskaya teach Buto for more than ten years, give master-classes in Russia, Finland, Switzerland and France. Having developed their own technique, they studied Buto from the Japanese master Masaki Iwana. For several years they practiced tsigun and tai chi with the master of Chen style Andrey Serednyakov. Solo and as members of ODD-Dance theatre, that they founded together with Anna Semenova in 2002, they give performances on various venues, on the open places, clubs and exhibition halls, concert halls and theatres.
For several years they cooperate with musicians and artists from Russia, Finland, Germany and Ireland. As performers they participate in the festivals in Russia and abroad. In 2007 they took part in the organization of Buto festival in St Petersburg.