Concert of the monks of Phiyang monastery, Masha Makarova ("Masha i Medvedi") and Safety Majic (World music)
September, 26th , «Cinema House»
GreenwaveMusic Company and Tibet House Moscow present a unique concert. For the first time one stage is shared by the Tibetan monks of Phiyang monastery and the leader of the group «Masha i Medvedi» Masha Makarova, together with a group SafetyMagic. The event emphasizes the link existing between Tibet and Europe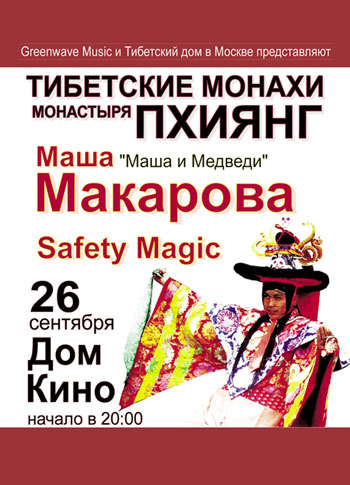 Increasingly do the Europeans experience the interest in the things relating to Tibetan culture and philosophy. As a rule, this is a consequence of the desire to achieve internal harmony in the demanding conditions of modern civilization. But we all live in one world, and the interest is mutual. This is the idea of the concert, which includes several components: rituals and ceremonies, rock music and the element of ethnic and world music.
Phiyang monastery monks' performance is called « VAJRA Dances and Songs ». Monks came to Russia within the framework of their European tour. Traveling around Europe, they introduce people to the Tibetan culture, which appeared to be on the edge of complete extinction. Phiyang monastery belongs to the school of Tibetan Buddhism Drikung-Kagyu. Mantras, performed by the monks, are the magic formulas, sacred verbal symbols, repeated countless times to achieve a higher state of mind. Dances of Phiyang monastery exist since the foundation of the monastery in the 15th  century and still remain in their original form, thanks to Tibetan monks who carefully preserved and observed the tradition.
One of the most popular Russian groups of the late 90's, «Masha i Medvedi» has recently successfully returned to the stage after the long break. The group's soloist Masha Makarova participation in the concert is not occasional – for a long time already she has been interested in the East and Tibet, many of her early clips were shot in the mountains of India.
In addition to the national love, Masha enjoys a great prestige among local rock musicians as a non-committed original artist who has the courage to make non-cliche music. At the concert Masha will have a joint set with a Safety Magic group.
The particular originality of the music group Safety Magic is the meditative tunes of India and Tibet, deftly interwoven in the general canvas of the sound. But it is hardly possible to define the style of the group precisely. The powerful rock drive in conjunction with jazz improvisation, the use of modern technology and natural ethnic trans have made Safety Magic almost the best representative of the world music genre in Russia.

Safety Magic and Masha Makarova,
Ethnolife Aug.2008