Alexander Berzin will give series of lectures
On 7-13 June, 2010 dr. Alexander Berzin will give series of lectures at a cultural center.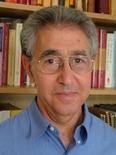 Dr. Alexander Berzin is a teacher of Dharma, Buddhologist, Tibetologist, Historian, and Doctor of Philosophy at Harvard University. Dr. Berzin started studying Buddhism in 1962 in India, learning from teachers of all four Tibetan traditions.
His main teacher was Tsenshab Serkong Rinpoche, the late Master Debate Partner and an additional tutor of His Holiness the Dalai Lama. For nine years, Dr. Berzin was his interpreter and secretary, following him in few trips around the world. One of the founders of Translation Bureau of Tibetan Works and Archives Library in Dharamsala, Dr. Berzin is the author of a number of books and articles about Dharma.
Since 1983, with the blessing of his teachers, he travels around the world and gives exercises on practice and theory of Tibetan Buddhism, visiting Russia regularly.
The library of his translations and works is represented on his Internet site and is available in Russian:
http://www.berzinarchives.ru
Details