Choekyi Nyima Rinpoche will visit Moscow
Choekyi Nyima Rinpoche will visit Moscow from August 26 to September 1.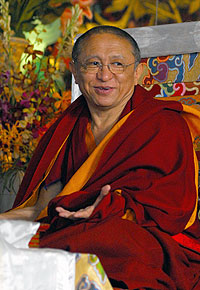 This year, Rinpoche will give a very special and most profound  teachings in the tradition of Chokgyur Lingpa, namely Kunzang Tuktik Don Tree - Essential Guidelines for Heart Bindu of Samantabhadra. These teachings on the deep practices of Dzogchen  are usually given to people who have completed the preliminary practices, or close to completion, in particular in the tradition Chokgyur Lingpa.
Because of restrictions related to the secrecy of these practices, some of which are Trekcho and Togal, the number of the retreat participants will be limited to 150, and preference will be given to those who have already completed the preliminary practices Chokling Tersar or is close to completion.
Also during the retreat Rinpoche will give a empowerment for the practice Kunzang Tuktik, Heart Essence of Samantabhadra