Exhibition "Traditional art of Nepal»
April 8 - 16, 2010 from 13.00 till 19.00 at the Embassy of Nepal in Moscow.
Collection of sculptures in bronze and crystal, Buddhist Thangka paintings really amaze with their sophistication and magnitude. The ability to see beautiful things associated with the Buddhist religion is indeed a unique event for those Muscovites who are interested in the history of the eastern region. The initial use of images as a support in the way of contemplation of the secret methods of Vajrayana is reflected in Nepalese tradition called "paubha". It is believed that in the early spread of Tantra teachings - images and statues were only personal items of those who practiced perfection techniques and thus were not allowed for people's observation. A century later, the development of art is connected with the establishment of the monasteries, where the objects of Buddhist practice began to look like regular decoration of temples.
Thus, the exhibition, presented by Nepalese artists and Embassy of Nepal in Russia, offers to look at the traditional art of this once Buddhist country, were the monuments associated with the spread of Buddhism were preserved and revived.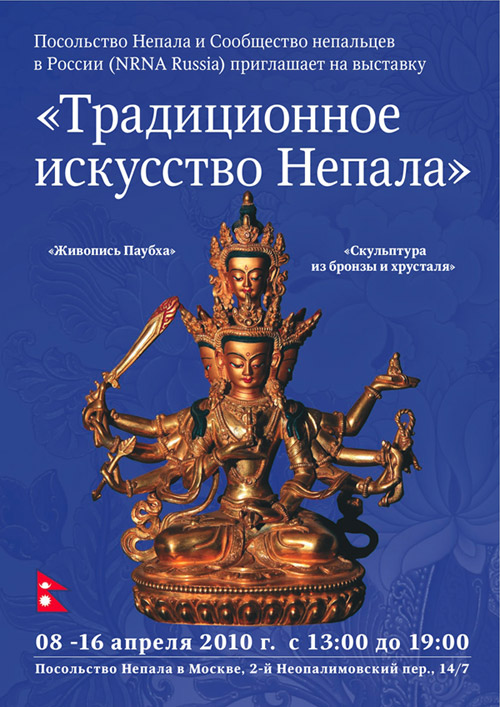 On April 7 at the Embassy of Nepal in Moscow grand opening of the exhibition "Traditional Arts of Nepal". took place The exhibition moved to Russian capital from St. Petersburg, where the exhibits were available to viewers from 10 to 21 March. The opening was attended by dignitaries and friends of the Nepalese Embassy, ceremony was held by the first secretary of the Embassy Acyutah Bhagta Poudel. In his speech he noted the uniqueness of this exhibition and said that in Nepal this tradition is called "paubha" which means "something that should not be displayed for observation".
Contemporary artist Lok Chitrakar, whose paintings made up the bulk of the exhibition, noted in his speech that the presented works of Buddhist art offer comprehension of the essence of Nepalese culture and religion.
Ambassador of Nepal in Russia, Mr. Surya Kiran Gurun thanked all the participants for their attention to the culture of his homeland, and opened the exhibition, inviting everybody to get acquainted with exhibits.
Exhibition is open from 8 to 16 April, 2010 from 13.00 to 19.00 at the Embassy of Nepal in Moscow.
Address: 2 nd Neopalimovskiy side-street., 14 / 7.