Lecture of Robert Beer
Lecture of Robert Beer
19 May, 2011, 19:00
Lecture of Robert Beer, the author of "Encyclopedia of Tibetan symbols and ornaments».
19 May, 2011, 19:00
Tibet House in Moscow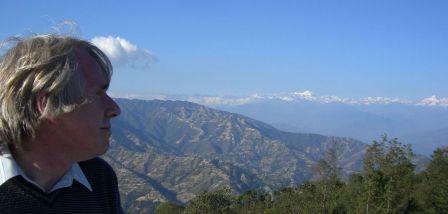 Lecture theme: «Nevarian Buddhist painting»
Robert Beer is recognized authority in the field of Tibetan and Nepalese Buddhist art, the remarkable artist, the researcher and the enthusiast who has devoted all his energy and creativity to sacral Buddhist painting. His book «Encyclopedia of Tibetan symbols and ornaments» is the first fundamental and extremely detailed work where the extensive and deeply symbolic iconography of Vajrayana Tibetan Buddhism is investigated.
This unique in its kind, first exhaustive encyclopedia systematizing almost infinite variety of symbols of Tibetan fine arts, is intended to the artists and designers, to the Buddhists, aspiring to comprehend all depth of symbolism of this spiritual tradition, and to all those who are interested in eastern art and art in general.
Robert Beer studied and practiced Tibetan thangka-painting throughout thirty years, including five years of training with masters-artists Jampa (personal artist of His Holiness the Dalai Lama XIV) from Dharamsala and Khamtrul Rinpoche from Tashidzhong. Beer is one of the first Europeans who devoted his life to deep studying and mastering of this form of art. What Beer says about himself is that he, in fact, is a self-educated person. He has started to draw in childhood and, having decided to become the professional artist, at the age of sixteen he submitted documents to a college of arts, but he was rejected, because of his color-blindness. Beer continued his studies and by 1969 when he was twenty one, he already possessed enough extensive knowledge both in eastern and in western esoteric traditions, and drew sacral images of the East with enthusiasm.
Images of wrathful Buddhist deities became the main means of his self-expression. Aspiration to draw them was not a conscious strong-willed decision imposed by philosophical or academic interest, but it was an instinctive, intuitive and spontaneous desire.
In 1970 he went to India and lived there for the next five years, having spent one year in Nepal. In Dharamsala he was the student of master Jampa from Lhasa, the personal artist of His Holiness the Dalai Lama XIV. Jampa's sketches gave him the basic knowledge of iconography of central-Tibetan style. It was a necessary preparation for deeper immersing in a subject throughout next years. In Nepal Beer studied structures of iconographical grids (thig tshad in Tibetan) of the principal deities, made by Gomchen Oleshe from Solu Khumbu. And though Beer never met with Oleshe personally, his art clearness and accuracy defined Robert Beer's personal style. After Oleshe's death in 1970 Robert felt that he should accept his art baton and finish the drawings begun by the master.
His last year in India Beer spent in Tibetan Craft Community of Tashidzhong in the valley of Kangra. Here he commenced his studies with his main Tibetan teacher Khamtrul Rinpoche. Beer worked for him throughout a year, creating the expanded series of small drawings known as tsakli which are used during empowerments. Khamtrul Rinpoche was the embodiment of what many people call «a Tibetan Master». The expert and the master of all Tibetan arts — thanka-painting, sculpture, sacred dance, architecture and other — Rinpoche was highly realized
In 1976, having returned to England, Robert Beer has started to unite aerographic techniques with the Tibetan art. Some of his innovations were nonconventional and the created images were intended for illustration of books. In 1980 Beer started a large scale project of creation a cycle of iconographical drawings, and here then the real training and work begun. Throughout last twenty years the artist has been concentrated on the creation of the developed series of iconographical drawings representing the principal deities of Vajrayana, lines and symbols holders which are present in the Tibetan art.
Phones:
+7 916 572 3066
+7 906 045 8899
orient@orientbook.ru
Site:
www.orientbook.ru