Buryat Lama Leads Tibetan Flame of Truth Relay
A spiritual leader of the Buryatia Republic of Russia led the flame of truth torch relay to highlight the critical situation in Tibet on 4 September. The campaign was organised by the Tibet House.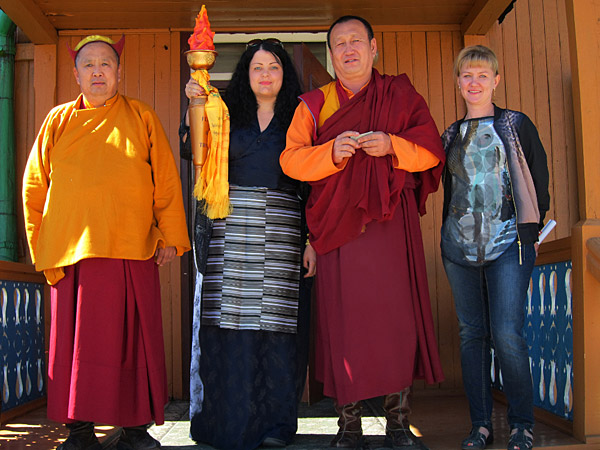 Dyd-Lama Dagba Ochirov, Mrs.Nadya Berkengeym,
XXIV Pandita Khambo Lama Damba Badmaevich Ayusheev, Ms.Kate Kosenko
Before leading the campaign, the Buryat Lama, XXIV Pandita Khambo Lama Dhamba Badmaevich Ayusheev met with Mrs Nadya Berkengeym, vice-president of Tibet House in Moscow, at Ivolginsky Datsang, the biggest Buddhist monastery located in Buryatia and the Center of Buddhism in Russia.
Representative of Tibet House handed over the torch to the Buryat Lama at a ceremony in Ulan-ude.
The torch then travelled to Irkutsk, Siberia's fifth largest city.
Mrs Nadya presided over a discussion on the issue of Tibet and a signature campaign at the Buddhist center of Irkutsk.
"The purpose of such my visit is to inform the public in Siberia about the worldwide Flame of Truth relay and seek their support through signature campaign," she said.
tibet.net