Day of Solidarity with Tibet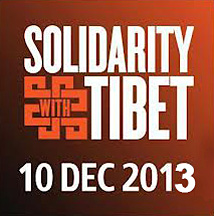 Tibet Solidarity Day will be observed in Moscow on 10 December on the occasion of the 24th anniversary of the conferment of the Noble Peace Prize to His Holiness the Dalai Lama and 65th anniversary of the Universal Declaration of Human Rights. Friends and supporters of Tibet, the Tibetan people and Buddhists will meet on this day that be show solidarity and attention to the problems of the Land of Snows and congratulations to His Holiness the Dalai Lama, the first Tibetan Nobel laureate to receive this Honor Award.
Geshe Jampa Thinley, Spiritual Head of Je Tsongkhapa Centre Buddhist Religious Organization, will lead the long life prayer of His Holiness the Dalai Lama. Dr. Nawang Rabgyal, Representative of His Holiness the Dalai Lama to Russia and CIS, will speak about noble activities and vision of His Holiness. Mrs. Nadya Berkengeym, Vice-President of Tibet House, will speak about human rights situation in Tibet.
Songs and dances in praise of His Holiness will be performed by various nationalities of Russian Federation and Tibet. Traditional tea and sweet will be served to all.
You are mostly welcome to join the gala event on December 10, at 19.00 evening.
Address:
Russia, Moscow, Lama Tsonkapa Center,
Mytnaya street, 23, building 1 (entrance from the yard)
Contact.: +7(499) 237-65-79
The event is being jointly organized by Tibet Culture & Information Center, Buddhist Center of Lama Tsongkapa, and Tibet House in Moscow.