Performance of Lama Tenzin Sangpo
Performance of one of best mantra singers Lama Tenzin Sangpo
together with
legendary New Age music composer
Margot Reisinger
October 22, 2013  at 7:30 pm at
«THE TEATRIUM ON SERPUHOVKA»
6, Pavlovskaya St. (1004 seats)
lamatenzin.ru
Buy tickets or www.concert.ru
Teatrium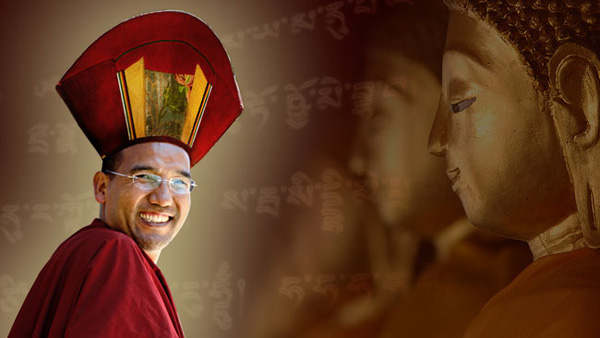 Lama Tenzin Sangpo is a Tibetan master of   throat singing with amazingly deep voice. The Tibetan vocalism is based on the centuries-long Buddhism traditions passed on from master to trainee.
At the age of 10, Tenzin Sangpo joined Chokyi Nyima Rinpoche's Ka-Nying Shedrub Ling Monastery in Nepal. There he received classical Buddhist education being trained by the renowned masters of the 20th century. Lama Tenzin Sangpo completed the traditional three-year retreat in Asura cave near Kathmandu, Nepal.
For over 10 years he served as the chant leader at major Buddhist ceremonies Ka-Nying Shedrub Ling Monastery in Nepal.  Lama Tenzin Sangpo has recently resided in Austria devoting much time to music. He issued four albums in the past three years. Also, Lama Tenzin Sangpo works with legendary New Age music composer Margot Reisinger that is famous for her talent in uniting ethnical music traditions and modern Western music trends.
In 2012 together with Margot Reisinger, Lama Tenzin Sangpo issued his CD «Buddha Within Yourself» that had great success in Europe.
Lama Tenzin Sangpo's listeners are impressed by the unique combination of his pure voice, classical mantras and striking musical arrangements. The master's followers say, "We come to Lama Tenzin concerts to absorb pureness and harmony. His singing opens hearts to love!" Lama Tenzin Sangpo's concerts had success in Austria, Denmark, Germany, Israel, India, Spain and France. It's worth noting that at concerts the master performs in the ceremonial Buddhist monk outfit.
Now, the first concert of Lama Tenzin Sangpo will be held in Moscow on October 22, 2013.
* Margot Reisinger issued over 20 albums and more than 1 mln copies were sold worldwide. Her discs are constantly offered at www.amazon.com