The 79th Birthday of His Holiness the 14th Dalai-lama
We invite you to Festive Evening dedicated to the 79th Birthday of His Holiness the 14th Dalai-lama, Tenzin Gyatso, which will be held on July 5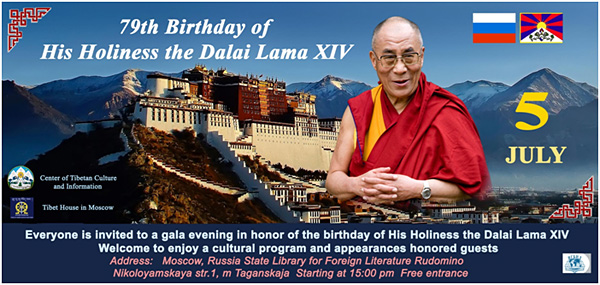 For many Buddhists all over the world the Dalai-lama is the impersonation of virtue and spiritual practice, the wise teacher and incarnation of Bodhisattva Avalokiteshvara. His Holiness the Dalai-lama is not only the spiritual leader but also the public figure taking care for Path of Non-Violence and Peace, Nobel Prize Laureate and the author of the books on history, philosophy and ethics.
On this happy occasion the cultural program and public addresses of honorable guests will be waiting for you.
Beginning at 3.00 p.m.
Admission is free.
Address:
1 Nikoloyamskaya str., Taganskaya metro station M.I.Rudomino All-Russia State Library for Foreign Literature
Telephone:
+7-905-517-51-70
Event planners:
- M.I.Rudomino All-Russia State Library for Foreign Literature
- Tibet Culture and Information Center
- Tibet House in Moscow