«Moscow Jam Festival»
As berry season sets in, Muscovites and visitors of capital will have the unique opportunity to participate in the first "Moscow Jam Festival" which will be held from 8 to 17 August 2014 whereof Moscow Mayor Sergey Sobyanin said on August 5 at Moscow Government Presidium meeting.
 "Holding of seasonal festivals in Moscow is becoming a tradition. The first festival was held on Christmas Day, the next one, "Moscow Spring", took place in spring. And now the summer festival called "Moscow Jam" will start on Friday in which three thousand shops, a half thousand cafes and representatives from 25 regions and 12 countries will participate. So we invite Muscovites to take an active part in this event", - Sergey Sobyanin said.
Geography of the Festival holding is quite large: the event will cover eight sites in the Central Administrative District and 11 sites in other districts.
The main pedestrian street in Moscow will turn into a bazaar in all its coloring. Oriental board games, fakir performances, belly dancing, a concert program presented by the oriental countries participating in the Festival, oriental sweets cooking master classes, oriental painting on ceramic pottery and, naturally, baklava, sherbet and rahat lakoum in plenty will wait for you at Arbat "Bazaar".

Tibet House in Moscow will present Tibetan civilization by cultural and entertainment events which will open up the mysterious land of Tibet for Muscovites.
Our program:
Greeting from Dr. Ngawang Rabgyal, Director of Tibet Culture and Information Centre
Tibetan folk dances and ethnic songs of Buddhist regions of Russia: Buryat and  Kalmyk
Demonstration of Tibetan national dress
Master class on Tibetan pulse diagnosis
Master class on Tibetan language
Master class on weaving of Tibetan good luck charms
Body-art for everybody: the Russian and Tibetan flags non-toxic applique for everyone
Express-photo with the Russian and Tibetan flags in the background
Performance of Buddhist monks with ritual musical instruments and throat singing
Starting time at 17:00 р.м.
Еntrance free.
Location:
Moscow, Central District,
Smolenskaya metro station Arbat Street.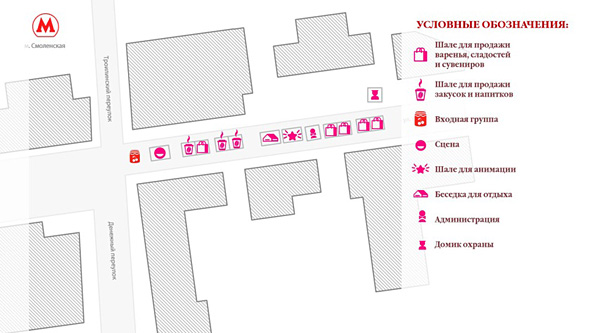 Photo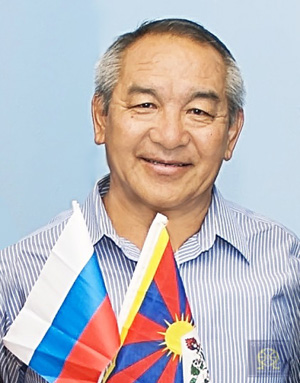 Greeting from Dr. Ngawang Rabgyal,
Director of Tibet Culture and Information Centre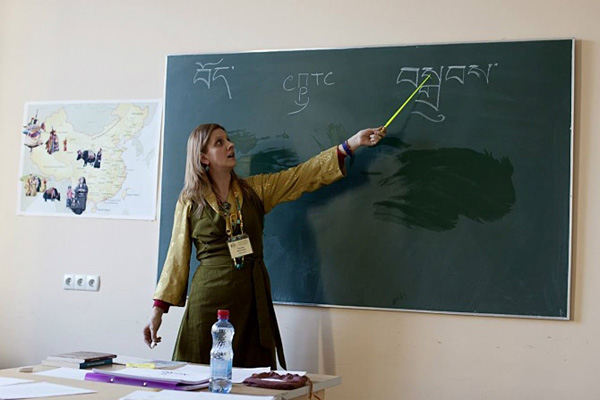 Master class on Tibetan language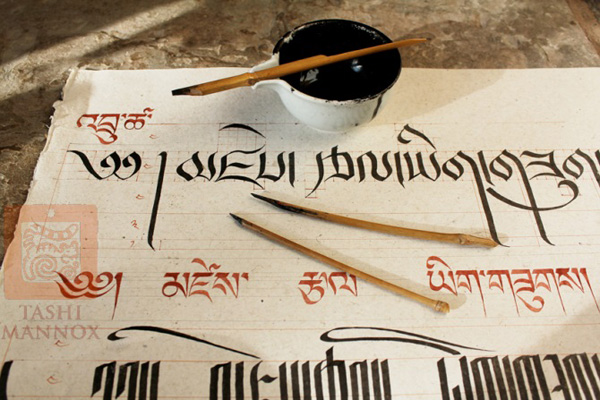 Every day in Buddhist temples of Russia the words of prayers are pronounced in Tibetan language and in monastic libraries teeming treasures of wisdom and knowledge are kept in the texts. Tamara Ilyukhina, a translator and the author of Tibetan textbooks will absorbedly tell you about Tibetan language. We invite you to listen to the fascinating story about history and script, take part in quiz with prizes as well as master class during which all of you can try your hand in Tibetan letters and words writing! Tamara Ilyukhina is the author of books on Tibetan language, a translator, a permanent participant and an award winner of language festivals held in the cities of Russia and CIS-countries and a lecturer of School for Rare Languages.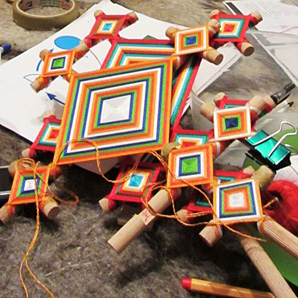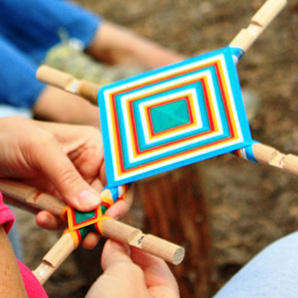 Master class on Tibetan charms Namkha
Namkha is a specific kind of charms which has come to us from the ancient Tibetan tradition. They are designed to harmonize human energy and enhance protection, good luck and personal power. Namkha is made ??of threads of five colors on a wooden base of a special form; a pattern is individually chosen for each person based on his date of birth according to Tibetan astrology. This master class will offer you a chance to touch the unique art of ancient civilization which is extant in our days.
Elena Herz has engaged in Namkha weaving since 2006 and she is considered as one of the best specialists in the world. She regularly gives training courses and public lectures, takes part in festivals and exhibitions. Elena Herz is a creator of Namka.Ru website.


Tibetan Pulse Diagnosis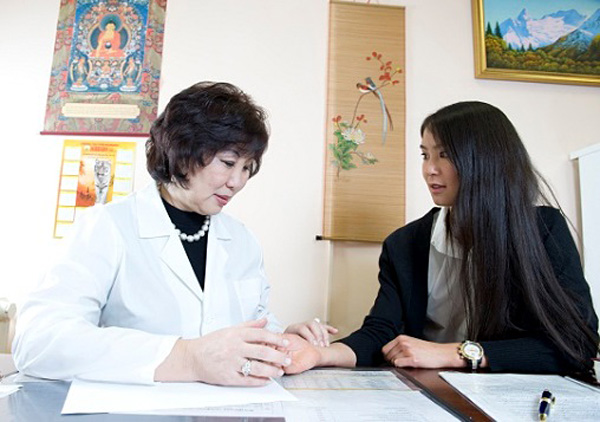 From the ancient times to the present day. The priceless truth about the state of health and the precious advice of a medical practitioner. "Naran" clinic will run free pulse diagnosis for everyone. The unique methods of Tibetan medicine will be closer to Muscovites and guests of our capital. Do not put away taking care of yourself for later! Let the unknown world of Tibet will become clearer and closer to you!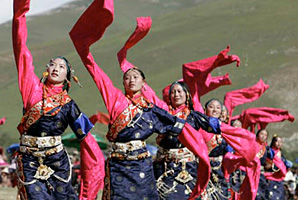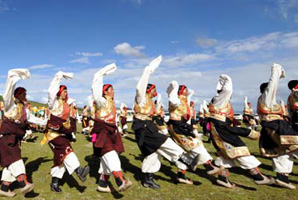 Khaita Joyful Dances
Khaita means "Harmony in the Space". Our aim is to encourage harmony within the individual, between people and their environment through dance, this powerful and joyful tool; dancing is the best way to harmonize movement and sound, to learn how to understand space and relate with others. Through dancing we can discover our inner harmony and how it resonates with the harmony of the Universe.
The dances we have chosen are based on modern songs performed by young Tibetan artists. Some of our dances follow traditional Tibetan patterns while others have a more modern style. In this last type of dances we try to use movements to express themes of the songs making the dance more meaningful.
The topics of the lyrics don't only reflect Tibetan culture but are the heart of each culture as we can recognize through them values that are important for all humanity, such as love to our homeland, the desire to maintain our language and culture, the wish to overcome borders and separations between different groups and the desire to spread peace in the world.
Talented performers of ethnic songs: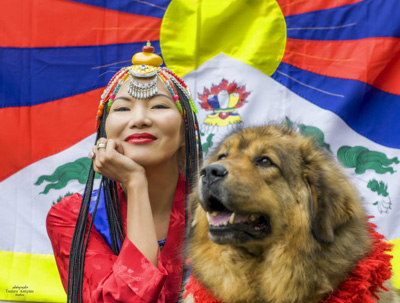 Irindzhan Ilyumdzhinova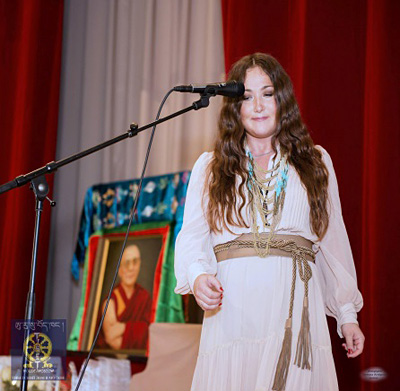 Irina Bush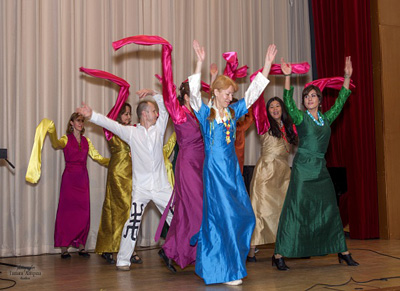 Inessa Budaeva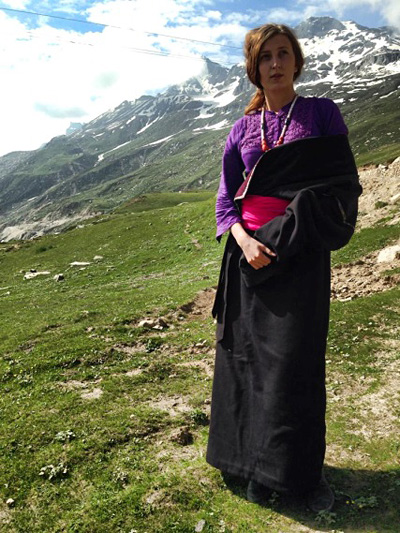 Nyidon (Lerie Miller)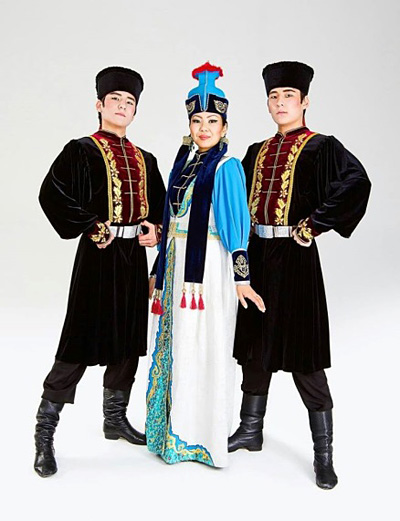 Diana Boskhomdzhieva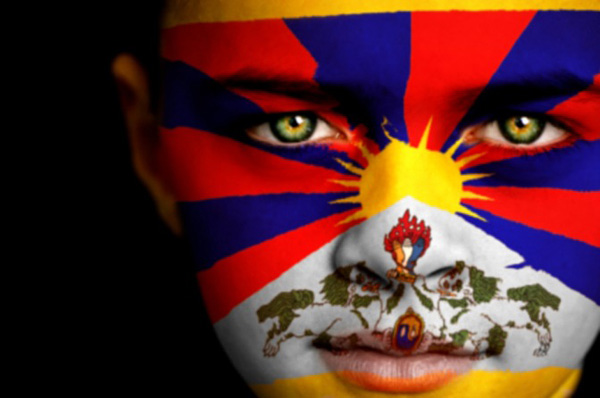 Тhe Russian and Tibetan flags non-toxic applique for everyone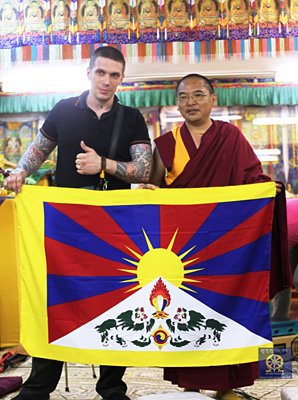 Express-photo with the Russian and Tibetan flags in the background