Winter Olympic Games 2014 in Sochi
 Tibet House in Moscow gladly joins all wishes of success to participants of the Sochi Winter Olympics.
The Olympic Movement has never lost its significance, however having entered the 21st century with its technological progress no one should forget the importance of harmony of human spirit and body.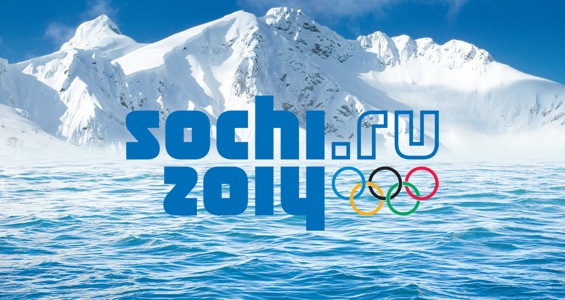 In March 2013 the representatives of Tibet House in Moscow made a trip to Dharamsala where they had the honor to meet His Holiness the Dalai Lama and Honorable Sikyong Lobsang Sangay, the young Tibetan political leader. During these meetings each of them congratulated all the Russians and wished the Russian athletes success at the Sochi Winter Olympic Games.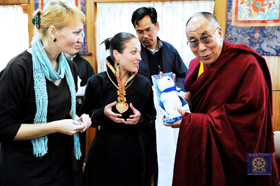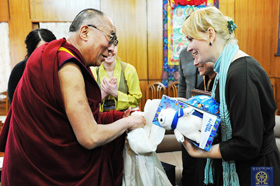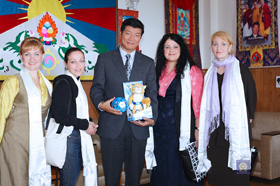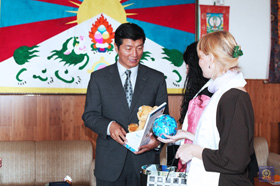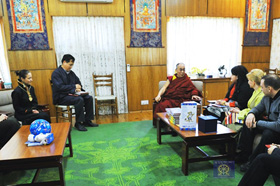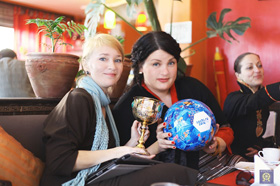 The Dalai Lama XIV, the spiritual leader of Tibetan Buddhism,
and Sikyong Lobsang Sangay, the Tibetan political leader,
encouraged Sochi 2014 Olympics.
March, 2013,
Dharamsala, India
On March 1, 2013 the representatives of Tibet House in Moscow had a meeting with His Holiness the Dalai Lama XIV, one of the spiritual leaders of Tibetan Buddhism.
During the meeting various issues concerning spiritual revival in Russia and the importance of interaction of cultural, social and religious organizations in the world have been discussed.
The representatives of the Russian delegation told His Holiness about the coming Winter Olympics in Sochi and presented the Dalai Lama the souvenirs with Olympic symbols. His Holiness wished success to the Russians in 2014 and blessed the Olympic ball.
Besides, on March 5, the Russian-Tibetan meeting with Sikyong Dr. Lobsang Sangay, young Tibetan public and political leader, the Head of the Tibetan Government-in- Exile, was held in the framework of visit to India. Honorable Sikyong showed great interest in preparation for the Olympic Games in Sochi. He himself is keen on many sports and closely watches the news on the coming Winter Olympics. Dr. Lobsang Sangay congratulated everyone on this significant event, wished success and gladly accepted the Olympic ball and Tiger, the symbols of Sochi 2014.