Tibetan New Year in Moscow
Dear friends!
We invite you to celebrate the Tibetan New Year.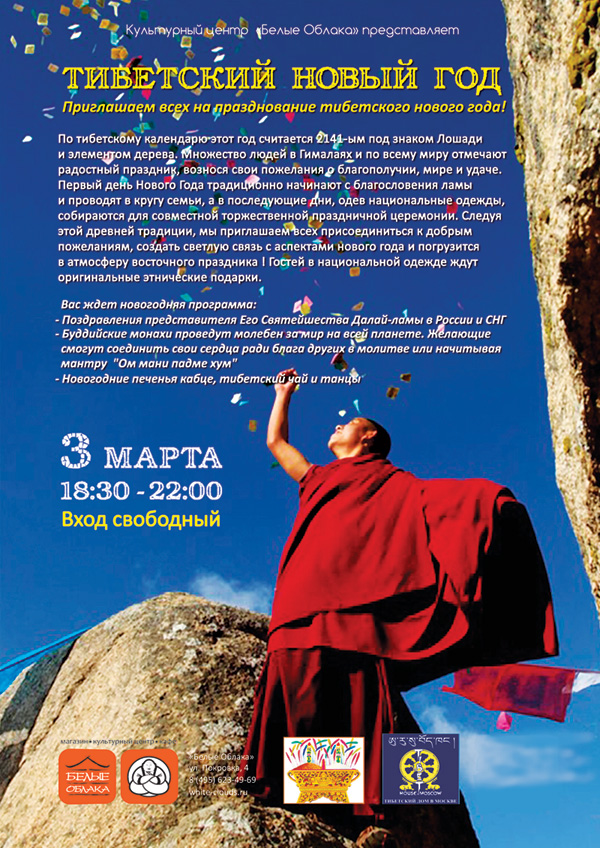 According to the Tibetan calendar this year is considered to be the year of 2141, it is the year of Wooden Horse. A lot of people in the Himalayas and around the world celebrate this bright Oriental holiday to wishing peace, luck and prosperity. Traditionally the Tibetans spent the first days of the New Year in the bosom of their family but on the next day they, wearing national costumes. gather for solemn festive ceremony.
Following this ancient tradition, we invite everyone to join the good wishes and create bright liaison with the New Year aspects!
You'll enjoy the New Year program:
- Congratulations from the representative of His Holiness the Dalai Lama in Russia and CIS
- Buddhist monks will hold a prayer service for peace throughout the world. Everyone will be able to unite their hearts for the sake of others' welfare in prayer or reciting a mantra "Om mani padme hum"
- Tibetan dances
- Tibetan tea with New Year's cookies kabtse
Original ethnic gifts are waiting for children and guests in national costumes.
Free admission.
Starting at 18:30
Cultural Center "White Clouds"
Pokrovka Str., 4,
Tel.: 8 (495) 6234969