Tibetans across the world celebrate Losar
March 4, 2014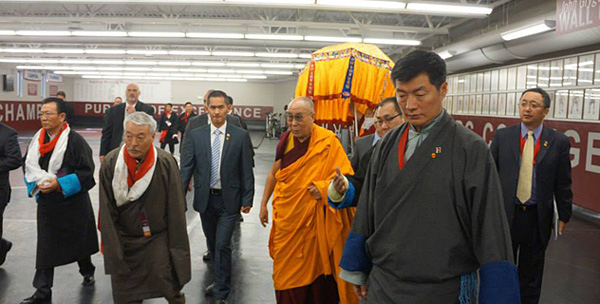 His Holiness the Dalai Lama and Sikyong Dr Lobsang Sangay
arrive for the New Year ceremony at Minnesota,
US, on 2 March 2014
MINNESOTA/MOSCOW/DHARAMSHALA: Tibetans living in different parts of the world marked the Wood-Horse New Year or Losar on 2 March. Tibetan spiritual leader His Holiness the Dalai Lama and political leader Dr Lobsang Sangay, who are on their visit to US, joined the Tibetan community in Minnesota on the occasion.
In Minnesota, US, the Tibetan community offered a long life offering to His Holiness the Dalai Lama. In his welcome address, leader of the Minnesota Tibetans, Namgyal Dorjee acknowledged the distinguished guests, His Holiness, the Sikyong, Congresswoman Betty McCollum, Congressman Keith Ellison, and Minneapolis Mayor Betsy Hodges. He noted that this was the first time His Holiness had celebrated Losar in the West and that Minnesotan Tibetans considered it most auspicious that he was spending it with them.
In his address, Sikyong Dr Lobsang Sangay also observed how auspicious it was that His Holiness was here. He greeted all 2500 people present with Tashi Delek, expressed a prayer that all His Holiness's wishes be fulfilled and noted how opportune it had been that His Holiness had recently been able to meet with President Obama. Congresswoman Betty McCollum concluded her speech with the declaration that it is time for Tibet to be free of violence and oppression. Congressman Keith Ellison in turn stated that it was time for the Chinese government to show respect for religious and cultural differences.
He said it should open up, specifically open up to a direct dialogue on the matter of a genuinely autonomous Tibet. Mayor Betsy Hodges opened her speech with a resounding "Losar Tashi Delek". She issued a proclamation to His Holiness naming today His Holiness the Dalai Lama Day of Peace in Minneapolis. Finally, Tashi Namgyal read a message from the Speaker of the Tibetan Parliament in Exile which concluded with the prayer that His Holiness's wishes be fulfilled, a prayer that he lives long and that Tibetans may soon be united once more within Tibet.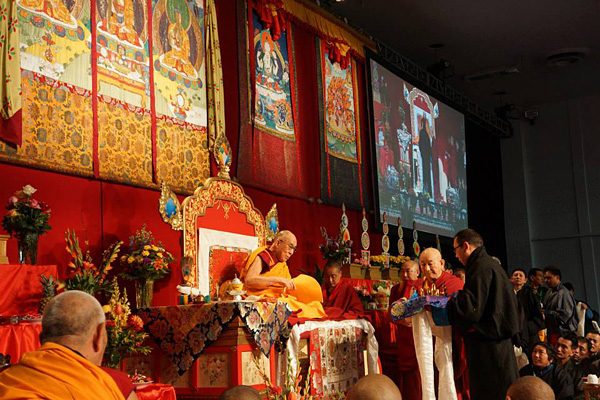 His Holiness the Dalai Lama being offered Mendrel Tensum
on the occasion of Tibetan New Year in Minnesota,
US, on 2 March 2014
Young Tibetans performed songs and dances that represented the Three Provinces of Tibet with vigour and joy.
Addressing the gathering, His Holiness the Dalai Lama said: "Democratically Elected Leader, Lobsang Sangay, Regional Tibetan Leaders, Congress Representatives, Lady Mayor, monastics and lay-people, our special guests of honour have come and spoken up for us – thank you. I'd like to start by greeting all Tibetans, not only those here, but all those outside and inside Tibet. Tibetans are not very numerous, but we have our own literature and language, which today is the most appropriate language in which to discuss Buddhism. All religious traditions teach about love and compassion, tolerance, forgiveness and contentment. The special emphasis in Buddhism is the use of reason. The Buddha taught a path leading to good rebirth and liberation. A thorough explanation of these teachings exists in Tibetan, an explanation more comprehensive that in any other language, which is something to be proud of.
"When we first came into exile, the only thing we knew for certain was the earth and sky. Reaching Mussoorie we had no idea what would happen to us. As time went on, we survived by relying on non-violence and the power of truth. I was 24 then and I'm nearly 79 now. In addition to the power of truth, we experience the power of compassion. We've done our best and kept our peace of mind."
His Holiness said that the most important thing is transforming the mind. He thanked the dancers for having trained and performed well. He joked that while the spectators were feeling cold, the dancers must have been quite warm. He said that the generations were changing and yet the Tibetan spirit remained strong. He told those assembled that he was thinking of doing the ceremony for generating the awakening mind of bodhichitta as his gift to all present. He said it is not enough merely to recite the verse of taking refuge and generating the awakening mind, you have to understand that we take refuge with a view to ultimately attaining omniscience, that is Buddhahood. That intention to become a Buddha is based on an understanding of emptiness. We experience suffering because of ignorance and the Buddha showed a path to overcome that.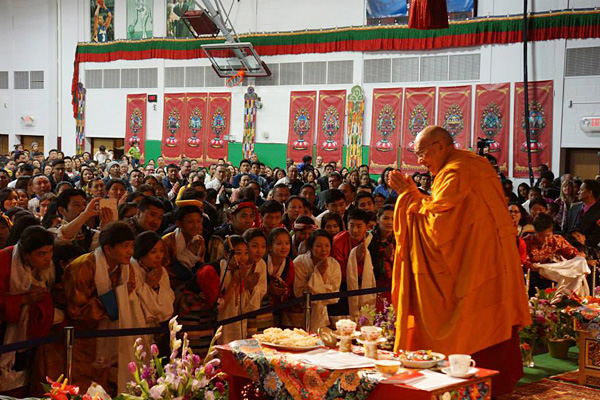 His Holiness the Dalai Lama greets the Tibetan community
on the occasion of Tibetan New Year
in Minnesota, US, on 2 March 2014
His Holiness began a reading transmission of Je Tsongkhapa's 'In Praise of Dependent Origination'. He said that Je Rinpoche took an interest in emptiness from childhood and this text of praise for the Buddha for teaching dependent origination is very valuable. He further remarked:
"Here we are celebrating Losar, which is dependent on many factors. If Losar had independent existence we couldn't speak of how those in Tibet and India already celebrated it yesterday, although we seem to be doing so today. Likewise, we have these green pieces of paper bearing certain designs that are known as dollars. They serve as designated. We can ask too, who declared the value of gold? People designated it this way and we accept it. When you look at my body you may say you can see the Dalai Lama, but if you look more analytically you won't find him. Since these things have no intrinsic existence, their names have no intrinsic existence either.
"Je Rinpoche refers to himself as a Buddhist monk, who is not poor in learning. He and I were born in the same place."
His Holiness led the assembly in reciting the verse for generating the awakening mind of bodhichitta. He gave the transmission of several popular mantras and then called on everyone to join him in reciting Om mani padme hung for the benefit of their brothers and sisters in Tibet.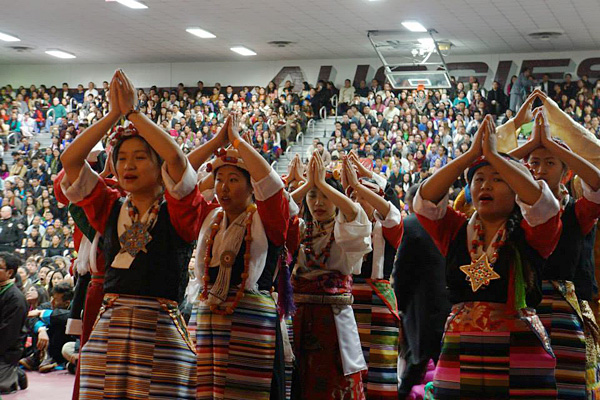 Tibetan artists present cultural performance on the occasion of Tibetan New Year in Minnesota,
US, on 2 March 2014
Dharamshala
The New Year celebration in Dharamshala began with the early dawn Tse-tor ceremony at Tsuglagkhang, the main temple. The monks of Namgyal Monastery offered a sacrificial cake (Tse-tor) to the supreme hierarchy of Dharma protectors, the glorious goddess Palden Lhamo. Led by Abbot Tromtok Rinpoche, officials of the Central Tibetan Administration and dignitaries joined the ceremony and offered their contemplative prayers, while the monks of Namgyal Monastery recite the invocation of Palden Lhamo. The Chief Justice Commissioner, Speaker of the Tibetan *Parliament-in-Exile and Kalons offered Men-Drel Tensum (three auspicious offerings symbolising the Buddha's body, speech and mind) to the throne of His Holiness the Dalai Lama.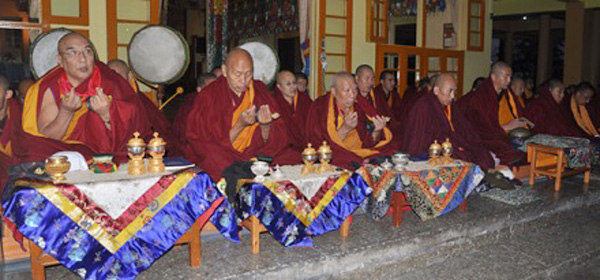 The monks of Namgyal Monastery offer prayers to Palden Lhamo,
the guardian deity of Tibet, on the occasion of Tibetan New Year in Dharamsala, India,
on 2 March 2014/DIIR photo/Tenzin Phende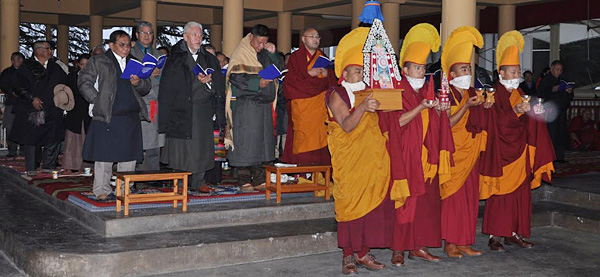 The monks of Namgyal Monastery and senior officials of the Central Tibetan Administration
offer prayers on the occasion of Tibetan New Year at the main temple in Dharamshala, India,
on 2 March 2014/DIIR photo/Tenzin Phende

A view of offerings inside the Tsuglagkhang, the main temple, on the occasion of Tibetan New Year
in Dharamshala, India, on 2 March 2014
Russia
The Losar of Wood-Horse Year of 2014 was celebrated in the capital of Russian Federation, Moscow, with chanting of Buddhist prayers, messages, speeches and cultural performances. The event was participated by Tibetans, Russians, Kalmyks, Buryats, Tuvians and Chinese students. A welcome speech was delivered by Mrs. Nadya Berkengeym, Vice-President of Moscow-based Tibet House.
The main event began with chanting of Buddhist traditional prayers led by Geshe Tsulrim Gyaltsen of Gomang monastery, who has been giving teachings on Buddhist philosophy in Moscow, and by Geshe Ardeem, a Buryat monk who studied in Gomang University in South India and obtained Geshe degree last year. Geshe Gyaltsen, while speaking on Losar, has emphasised on the importance of cultivating inner peace for world peace.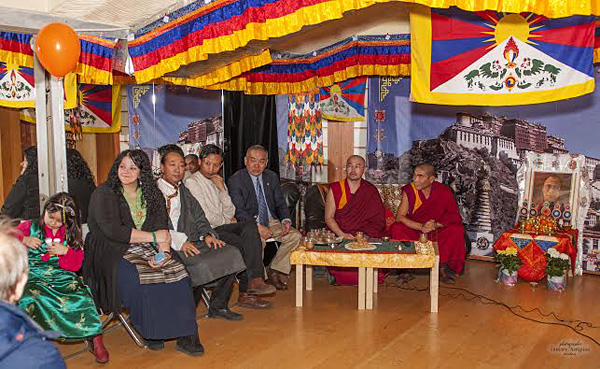 His Holiness the Dalai Lama's Representative Nawang Rabgyal (3rd R) with members
of the Tibetan community and Tibet Support Groups on the occasion of Tibetan New Year
in Moscow, Russia, on 2 March 2014
It was followed by Losar greetings speech by Representative Nawang Rabgyal, who briefly introduced the celebration of Losar in Tibetan society. The Losar message of Sikyong Dr. Lobsang Sangay translated in Russian was presented to public on screen. A group of young Russian artists performed Tibetan dances, which was highly appreciated by the audience.
The Losar event was jointly organised by White Cloud Center and Tibet House, with cooperation of Tibet Culture and Information Center, an official agency of Central Tibetan Administration. Tibetan tea and Losar cookies khabse were served to all who attended the Losar celebration.
Another event for Losar celebration will be organized by "Kalinka Norbu Lingka Center" in Moscow on 6th March at Tibet Himalaya Restaurant in the center of Moscow. Tibetan songs and dances will be performed with dinner reception.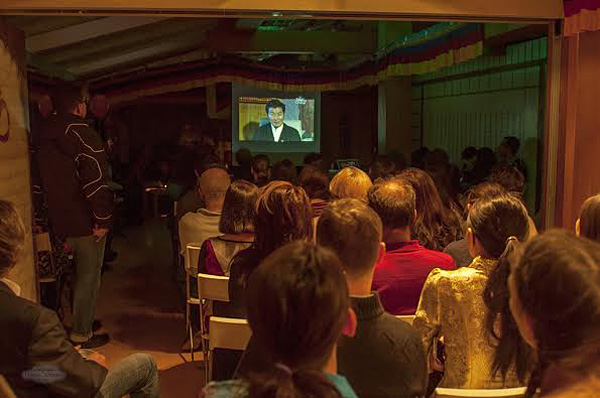 The video message of Sikyong Dr. Lobsang Sangay on the Tibetan New Year showed in Russia
The Tibetan New Year (Losar) was celebrated in Kalmyk Republic on 2nd March as the gala festival of Spring season. Three traditionally Buddhist Republic in Russian Federation follow the Tibetan Buddhism since 17th century and regard His Holiness the Dalia Lama as their supreme spiritual leader.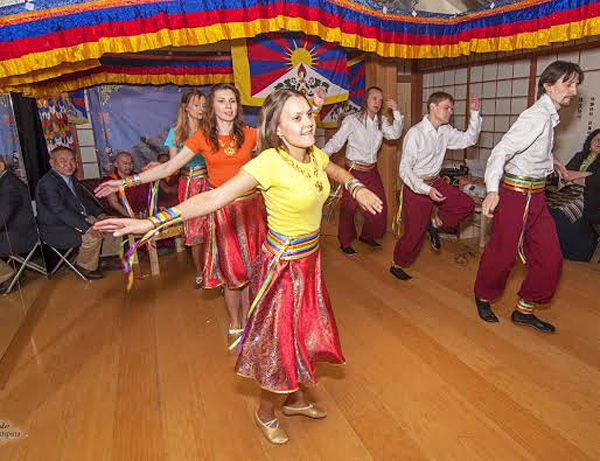 Russians present cultural dance on the occasion of Tibetan New Year in Moscow
on 2 March 2014
By:
tibet.net