The Evening dedicated to Tibet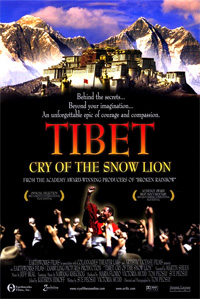 Open World Center and Tibet House in Moscow invite you to the Evening dedicated to Tibet which will be held on September 2.
 The first run of the documentary film "Cry of the Snow Lion" and the open meeting with our honored guests will wait for you.
The event is arranged to coincide with the International Day of Tibetan Democracy and presents a series of evenings dedicated to Tibet. At the open meeting Dr. Ngawang Rabgyal, Director of Tibet Culture and Information Center; Mr. Viatcheslav Toloknov, a post-degree student of the Center for Asian and Pacific Studies at the Institute of Ethnology and Anthropology of the Russian Academy of Sciences, and Nadya Berkengeym, Vice President of Tibet House in Moscow, as the experts, will answer your questions.
About the film:
This documentary film gets the audience to the "Roof of the World" - Tibet, veiled from outsiders' eyes for the longest time. The film is full of scenes demonstrated for the first time: from rare rituals in remote monasteries to Khampa warriors horse races; from brothels and slums in the Holy city of Lhasa to the amazing Himalayan peaks which you can cross only by yak caravans. Hidden moments of the recent past of Tibet are revealed through personal stories and interviews, through secret and archival pictures never demonstrated before.
We are looking forward to see everybody who is interested in Oriental culture and lifestyle. Our evening will be held in informal atmosphere with friendly dialogue and tea.
Beginning: 7.30 p.m.
Address:
Moscow, Pavlovskaya Street 18, Center "Open World"
Subway station Tul'skaya
Organizer of the Evening:
NGO "Tibet House in Moscow"