Congratulations to the Dalai Lama with the 80 anniversary
Attention to
His Holiness XIV Dalai Lama of Tibet
ohhdl@dalailama.com
The Office of His Holiness the Dalai Lama
Thekchen Choeling, P.O. McLeod Ganj
Dharamsala, Himachal Pradesh,
India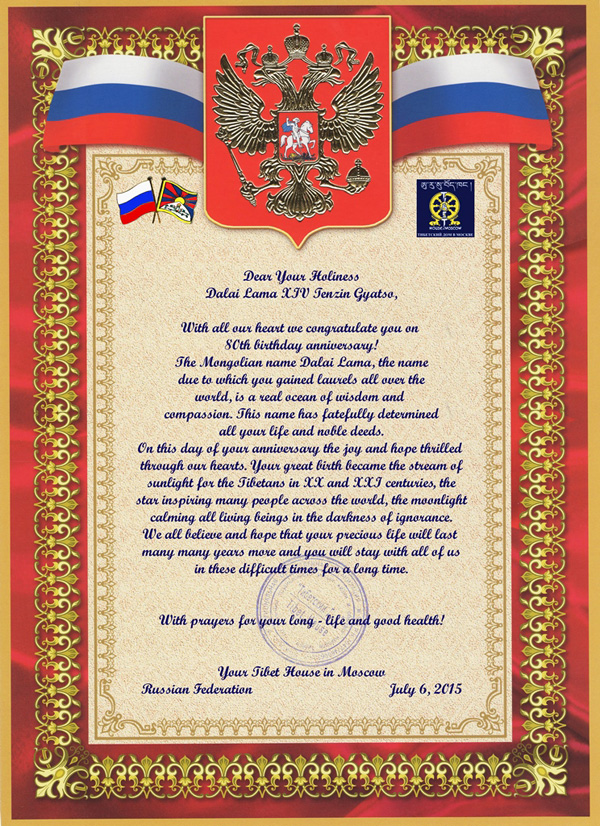 Dear Your Holines
Dalai Lama XIV Tenzin Gyatso,
With all our heart we congratulate you on 80th birthday anniversary!
The Mongolian name Dalai Lama, the name due to which you gained laurels all over the world, is a real ocean of wisdom and compassion. This name has fatefully determined all your life and noble deeds.
On this day of your anniversary the joy and hope thrilled through our hearts. Your great birth became the stream of sunlight for the Tibetans in XX and XXI centuries, the star inspiring many people across the world, the moonlight calming all living beings in the darkness of ignorance.
We all believe and hope that your precious life will last many many years more and you will stay with all of us in these difficult times for a long time.
With prayers for your long-life and good health!
Your Tibet House in Moscow
Russian Federation
July 6, 2015