The 5th International Conference on Study of Lama Itigelov's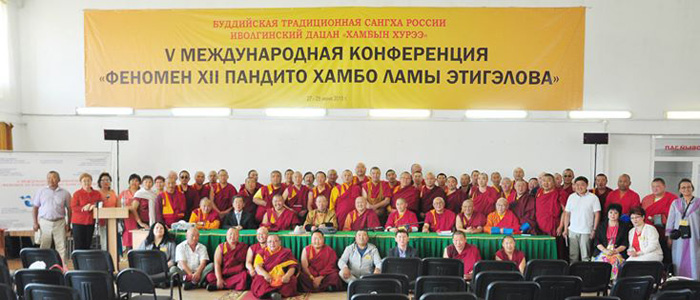 The study of daily messages (teachings) of Hambo Lama Itigelov, following His teachings and the idea of creation of Mongolian Buddhist Forum are the main outcomes of the 5th International Conference on Study of Khambo Lama XII Dashi-Dorzho Itigelov's Phenomenon.
The 5th International Conference on Study of Khambo Lama XII Dashi-Dorzho Itigelov's Phenomenon took place on June 27-28, 2015 in Ivolginsky Datsan.
On June 27, 2015 at 9.00-10.00 a.m. in Tsogchen-dugan all the conference participants were given the opportunity to attend a great prayer service for Worship of the Master and a mandala offering as well as personally bow down to Hambo Lama Itigelov and receive the blessings.
The conference brought together dozens of scientists from different regions of Russia, Asian CIS countries, Mongolia, China and Japan for whom the phenomenon of the great Buryat Lama, a philosopher and yogi, is not only a mystery of earthly life and a miracle of unbelievable spiritual endeavor being beyond common mind but the real path of philosophy and practice for a person striving for spiritual self-development.
Hambo Lama Damba Ayusheev and honorable participants and guests delivered their addresses to the attendees. The Head of the Sangha of Russia spoke presenting a review of Hambo Lama Itigelov's daily messages with accompanying comments made for the past two years. After the sessions of two sections held in the afternoon, the conference was completed with the excursion to Ivolginsky Datsan organized for the participants.
Each year the conference which has been held once in two years since 2007 attracts more and more participants. Moreover, some scientists have come to the Master for all these eight years. Based on their own experiences, thoughts, intellectual and empirical studies, they create fascinating papers making their contribution to the fund of common knowledge of the phenomenon of immortality in the material world. It is that's why we can say that each scientist participating in the conference is to some extent a pioneer in this field. During the work of the previous four conferences we heard a lot of participants' hypotheses, views and revelations, and got to know various understandings of the most important aspects of Hambo Lama Itigelov's phenomenon. And this time it seemed that everything will be the same as before...
However on the second day the format of the 5th Conference unexpectedly changed. Hambo Lama Damba Ayusheev himself became the principal moderator of the event. He opened the plenary session on the second day of the conference. And we are confident that everything was going the same way as under the guidance of Hambo Lama Itigelov: there cannot be doubted - it's time to move away from traditional forms of congresses during which as a rule we have reports, scientific and practical round tables, backstage conversations during coffee breaks, exchange of views, philosophical debates, making resolutions, etc.
Once again the main theme of the speech of the Head of the Sangha of Russia was Hambo Lama Etigelov's teachings delivered by him every day in the early morning through His Chief Guardian Bimba Lama Dorzhiev. Humble understanding that it is impossible for the person who is under permanent influence of various internal and external bars and circumstances to realize all the fine lines and depth of the Teachings and daily spiritual heritage of Hambo Lama Itigelov as they are, allowed or, more accurately, required fundamentally to change the format of this and future conferences on the study of the phenomenon of Pandito Khambo Lama XII. Over the past eight years there were a lot of works created in this field, many hypotheses given, a great deal of questions posed on which there were no any answers found. It appears that it is admitted that from now there is no sense in a fruitless search for the secret of the Master's methods to achieve the state of eternal and ever-living divine body, maintain its incorruptibility in the material world in order to search explanation of Itigelov "crystal of purity" coming to us for the whole kalpa Buddha... No matter how many efforts we make to understand and know the phenomenon of the Master and His greatest experience of the path of all previous high births in India, Tibet and Russia (Buryatia), we cannot do this but make only suggestions. And time is running out fast...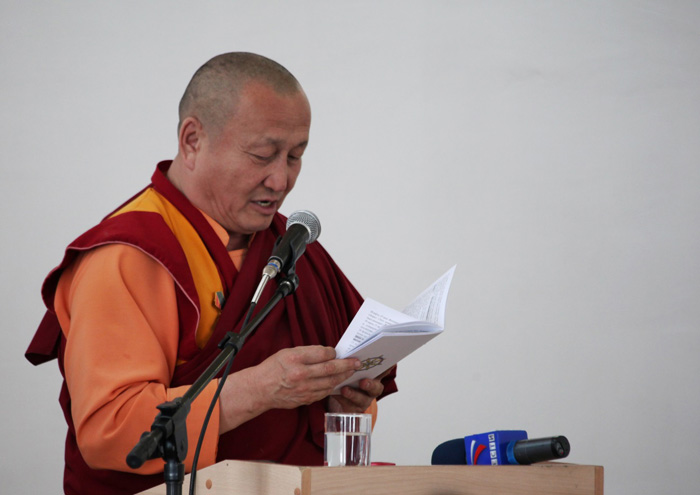 As Damba Ayusheev pointed out, Hambo Lama Itigelov will remain in this phenomenal state for two thousand and two hundred years. These words are the words of the Master himself. Therefore now it is important for each of us, who considers the life itself to be precious, to get treasured advice and deep and essential homilies of the Master and try to be a bit closer to realization of the main goal of human life... So therefore it is decided that the next conference will be devoted exclusively to study of the Master's messages: "Over the next two years Hambo Lama will tell us many interesting things and our duty is to take His unique Teachings to our hearts... and practice it in our present life and in all future lives...
We published the first issue of Hambo Lama homilies which you hold in your hands. We will also publish them in further because we continue our work on explanations of the messages. I put my brief comments on "Twitter" and together with the Master's Guardian we create this unique fund of daily spiritual heritage of Hambo Lama Itigelov... He entrusted himself to us and our duty is to create conditions for continuation of His mission and realization of His visions... We have a future because we have Hambo Lama Itigelov and His teachings".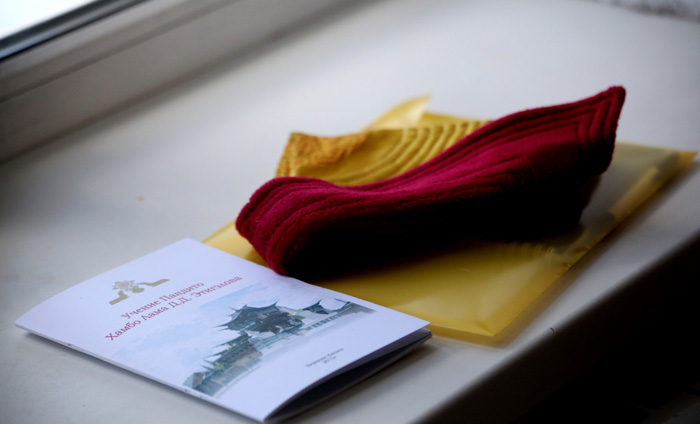 The conference was attended by a large group of distinguished guests from Mongolia - Buddhist priests whose contribution to development of modern Mongolian Buddhism is invaluable. This fact was not only a special and a good sign but it laid reliable basis for new level of constructive dialogue and active cooperation between Buddhist clergy of the Sangha of Russia and Mongolia. Now we can say with confidence that the 5th International Conference on study of the phenomenon of Khambo Lama XII Dashi-Dorzho Itigelov actually became a crucial point in the history of development of Buddhism in our friendly countries - Russia and Mongolia.
The highlight of the conference was the idea of ??creation of Mongolian Buddhist Forum initiated by Baldan Lama Bazarov, Shireete Lama of Kyrensky Datsan; Solbon Ayusheev, Shireete Lama of Tamchinsky Datsan and the delegation of Mongolian clergy. Hambo Lama Damba Ayusheev called this idea "the major breakthrough idea of our fraternal peoples' future which will allow us, Buryats, to preserve our native language, restore historical traditions of cultural and spiritual unity. This decision is made by Hambo Lama Itigelov himself! He sees sincerity and depth of faith of our Mongolian brothers who, covering the hundreds and thousands of kilometers, come to Ivolginsky Datsan in Buryatia to Him for blessing…
This means that we become witnesses of onset of a new time in the history of traditional Buddhism in our country. The believers from Kalmykia and Buddhists from Inner Mongolia will take part in future Forum and we hope that Buddhists of the Republic of Tuva will also join us. Hambo Lama Itigelov, without asking us, initiated the process of spiritual rapprochement and integration of our peoples - brothers in faith... Therefore, now we know exactly what we'll do in future and what we'll speak during the next conference about".
Tibet House in Moscow, also participated in the conference. The report "The Role of the Buddhist Traditional Sangha of Russia in global and regional perspective" by Vice - President Mrs. Nadya Berkengeym.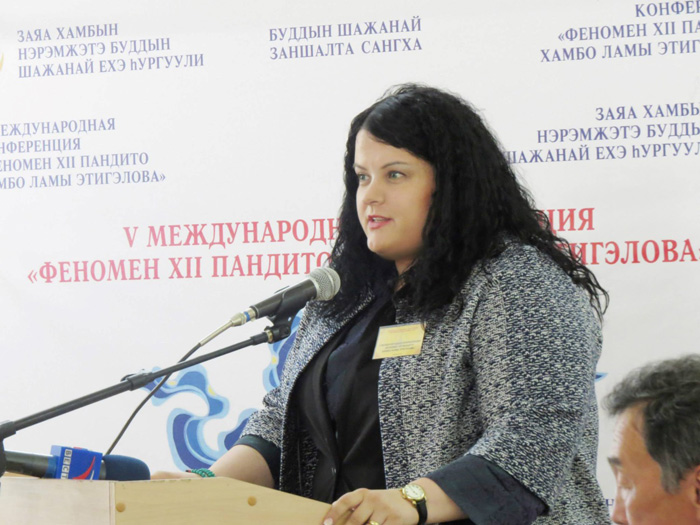 Photo Svetlana Tselovalnikova, Ekaterina Kosenko, Tibet House in Moscow
By:
sangharussia.ru