Program of Gyetrul Jigme Rinpoche's Visit to Moscow
Wednesday, December 2 at 7:30 pm
A public talk by Gyetrul Jigme Rinpoche "Couple and Relationship"
Conference hall of the Yunost Hotel, Khamovnichesky Val 34, Moscow, Sportivnaya Metro station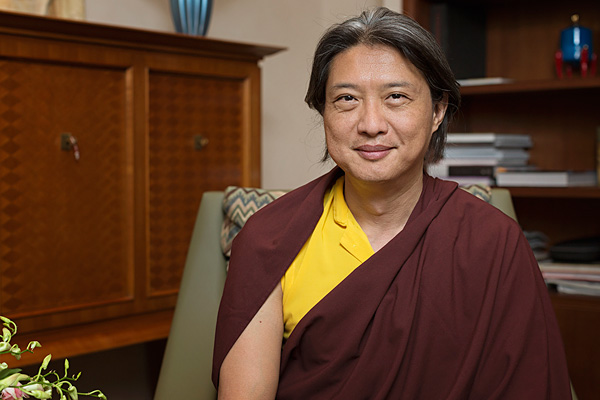 Talking about personal relationships, we usually refer to couple relationship. In time of peace, or during war time or crisis, relationships remain of vital importance. Fondness, passion, love, enthusiasm, happiness, anger, hatred, torpor, disillusion are all part of couple relationship experience. At first everything is exciting and promising, but when underlying problems come out later on, we are not ready to face them. So, our relationships start to fall apart. Even strong and happy couples admit that at times they had trouble getting along with each other.
Accomplished Buddhist master Gyetrul Jigme Rinpoche will share his opinion and insight with us.
Free entrance. The event is open to all.
Register now
Event on facebook
Buddhist Teachings
Thursday, December 3 – Friday, December 4
Gesar Lord of Drala Teachings
5:00 pm – 7:00 pm Gesar Lord of Drala Part 1
7:00 pm – 8:00 pm Time for a break
8:00 pm – 9:30 pm Gesar Lord of Drala Part 2
Gesar is an enlightened being who took birth as the bodhisattva warrior king in Tibet in the 10th century.
Practice of Gesar Lord of Drala eliminates obstacles and brings victory in all directions, promotes success, splendor, fortune, longevity and creates merit. The practice belongs to the mind treasures revealed by the present throne holder of the Ripa lineage, His Eminence Namkha Drimed Rabjam Rinpoche.
Saturday, December 5 – Sunday, December 6
Ngondro Teachings of the Ripa lineage
9:30 am – 10:30 am Lha Sang (smoke offering to Gesar) and Riwo Sangcho
10:30 am – 11:00 am Time for a break
11:00 am – 1:00 pm Ngondro of the Ripa lineage Part 1
1:00 pm – 2:00 pm Time for a break
2:00 pm – 4:00 pm Ngondro of the Ripa lineage Part 2
The Tibetan term Ngondro refers to the preliminary practices in Vajrayana Buddhism. Ngondro practice helps us to dispel gross obstacles created by our body, speech and mind and to accumulate merit. Ngondro practice consists of a series of accumulations and it is the foundation required for further Vajrayana practice.
"If we practice Ngondro, it means that we are practicing the very key point, and that we really want to achieve enlightenment." Gyetrul Jigme Rinpoche
Sunday, December 6
4:30 pm – 5:00 pm Taking Refuge
In Buddhism one takes refuge in the Three Jewels — Buddha, Dharma, and Sangha. The refuge is a gateway to all Buddhist practice. Those willing to take refuge should register by calling the Ripa Center administrator +7 (499) 653-7440 or by filling out the form
Tuesday, December 8
7:00 pm – 9:30 pm Vajrasattva Purification Ceremony
This ceremony helps in purifying negative effects of our past actions, in bringing pacification, and it is able to relieve misery.
For Buddhist practitioners, it is also a skillful method to purify their downfalls and restore their samayas (set of precepts or commitments in Vajrayana Buddhism), and dispel the obstacles on the way to realization.
On December 3 through December 8 all events will take place at the Ripa Center:
Aptekarsky Pereulok 9, Moscow, View itinerary
Suggested contribution
December 2, 2015 Public talk "Couple and Relationship" — FREE
December 3, 2015 Gesar Lord of Drala Teachings Day 1 — 1200 RUB
December 4, 2015 Gesar Lord of Drala Teachings Day 2 — 1200 RUB
December 5 – December 6, 2015 Lha Sang and Riwo Sangcho practice — FREE
December 5, 2015 Ngondro Teachings Day 1 — 1500 RUB
December 6, 2015 Ngondro Teachings Day 2 — 1500 RUB
December 8, 2015 Vajrasattva Purification Ceremony — 1500 RUB
Total amount of fees for the program — 6900* RUB
*5200 RUB — if prepaid before or on November 22, 2015
Payment:
• You can pay in cash to the administrator at the Ripa Center, Aptekarsky Pereulok 9, Moscow, from 10:00 AM till 10:00 PM each day.
• Or transfer to Sberbank Maestro card 6761 9600 0230 1652 36 (Юлия Ложкина)
After you have done the transfer, please send us an email, with Ripa Teachings in subject field, to jslozhkina@gmail.com. Please kindly state in your email: date of transfer, last four digits of card or account number, your name and surname or name and surname of the participant for whom you have paid for, and payment amount.
For instance:
November 10, 2015 transferred from card ****0108 for Yekaterina Ivanova 5200 RUB
For people with low income, a financial reduction is possible. If you cannot make suggested contribution, you can still participate as a volunteer. To become a volunteer, fill out the form
If you plan to attend either whole program or certain events, please register here. Registration will enable us to organize everything in the best possible way.
If you still have some questions, please feel free to contact the Ripa Center administrator by calling +7 (499) 653 74 40.
More information in Russian is available on www.ripa-center.ru