The event dedicated to the Panchen Lama, Gendun Choekyi Nyima
April 25, 1989 is a day of sunshine and sorrow for Tibetans all over the world. On this day the 11th Panchen Lama, Gendun Choekyi Nyima, one of the most significant spiritual and secular leaders of Tibet for many centuries, was born in Tibet.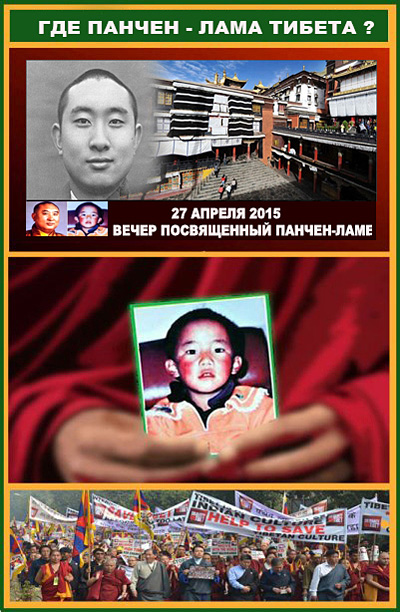 On May 14, 1995 the XIV Dalai Lama made an official statement and declared on new reincarnation of the Panchen Lama XI - a six-year-old boy Gendun Choekyi Nyima. Three days later, on May 17 the little Lama and his parents disappeared. Since then the fate of the Panchen Lama has been kept in secret by the Chinese government despite repeated requests and statements concerning Gendun Choekyi Nyima made by the world public and political leaders. The Chinese leadership has made an immoral substitute presenting another boy to the Tibetan people while keeping whereabouts of the real Panchen Lama in secret. By UN resolution Gendun Choekyi Nyima has been recognized as the most minor political prisoner in the world. Up to now the fate of the real Panchen Lama and his family is unknown.
The fate of this boy and many other Tibetans clearly shows that China's repressive policy towards Tibetans has not been changed for many years. The Tibetan people continue to be subjected to severe discrimination on the ground of national origin. The issue on permanent violation of human rights in Tibet as well as violation of environmental standards and social development in this region remains unclear. Today the threat of extinction of unique and ancient Tibetan civilization is of vital importance as never before.
We invite all friends of Tibet, experts on Central Asia and human rights experts, media representatives and people interested in the East to participate in the event in honor of the XI Panchen Lama's birthday.
Evening Program:
- Information video report on the Panchen Lama
- Speech of Venerable Telo Tulku Rinpoche, Honorary Representative of His Holiness the Dalai Lama to Russia, CIS and Mongolia
- Speeches of honored guests: Sergey Kuzmin, Institute of Oriental Studies of Russian Academy of Sciences (IEA RAS); Nadya Berkengeym, vice-president of Tibet House in Moscow; Viacheslav Toloknov Institute of Ethnology and Anthropology of Russian Academy of Sciences (IEA RAS)
- Open discussion with the audience
Invite to all April 27, 2015
Beginning at 6:30 p.m.
Address:
Central House of Journalists
8a Nikitsky Boulevard, Moscow.
"Arbatskaya" Metro Station.
Tel.: +7 (495) 691-09-87 (for press accreditation)
Tel.: +7 (905) 517-51-70 (for enquiries)
Organizers:
«Tibet Culture and Information Center» и «Tibet House in Moscow»