Interview with Hon. Speaker of Tibetan Parliament-in-Exile
December 3, 2014
Tibetan Parliament-in-Exile, Dharamsala, India (Speaker's office)
Interviwee: Penpa Tsering, Speaker of Tibetan Parliament-in-Exile (from 2006 to the present day)
Interviewer
: Viacheslav Toloknov, PhD Candidate, Institute of Ethnology and Anthropology of Russian Academy of Sciences Department of Asian and Pacific studies), expert of Tibet House in Moscow.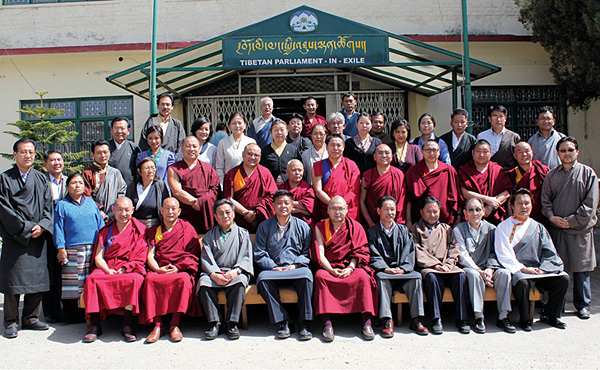 Tibetan Parliament in Exile, members of 2011-2016.
Photo: Museum of Tibet (India)
Viacheslav Toloknov (V.T.):
Good afternoon honorable Mr. Penpa Tsering. It is great honor for me to meet you and speak with you here at the Tibetan Government-in-exile in Dharamsala. You are one of the longest-serving parliamentarians in the current Central Tibetan Administration, member of Parliament for 18 years and a speaker for the last 8 years. And probably you know better than anybody else about Middle Way Approach – a policy for genuine autonomy for Tibetan people – Umaylam, a policy which is intended to find a peaceful way to protect the unique Tibetan culture and identity. Therefore my first question to you is: What is the basis of Middle Way Approach? What is an underlying principle of Middle Way Approach?
Penpa Tsering (P.Ts.):
Middle Way Approach is a Buddhist doctrine, it means a central not two extremes. Now here in the Tibetan political context it means: one extreme end is what Tibet used to be before 1959 and the other extreme is what Tibet is now under Chinese occupation. So in order to find a middle way we are seeking autonomy or self-rule by which we can preserve identity and the Chinese need not worry about their sovereignty because for China sovereignty is of great importance. Therefore Tibetan way of life, Tibetan Buddhist culture is so very important for Tibetans. We have been practicing Buddhism for more than 1300-1400 years. And for Tibetans the Buddhist way of life is very important and it also has the potential to spread peace in the world. So if there is a solution for Tibetans through the Middle Way by gaining genuine autonomy for Tibetans, then Tibetans will be able to preserve their culture and religion, way of life and environment, and this will become a part of the larger Chinese culture. It will be amalgamation of Tibetan culture into the larger Chinese civilization, and peaceful coexistence between the Chinese Government, Chinese people and Tibetan people. This is the underlying principle and motivating factor why the Middle Way Approach was adopted.
V.T.:
So, the Middle Way Approach policy dates back to 1974, isn't it?
P.Ts.:
I think that the initial idea was proposed to His Holiness by the Tibetan leadership at that time and His Holiness also was thinking of that line. In 1974, as you can imagine, there was Cultural Revolution going on in China from 1966 to 1976. The situation was very difficult. And there was also realization that no single country in the world supporting Tibetan independence. At the same time inside Tibet the situation was so difficult that it was real threat of destruction of Tibetan culture and identity. So therefore the seed of the Middle Way Approach was thrown sometimes in 1973-1974.
V.T.:
It is well-known that this year 2014, the large-scale Middle Way Approach awareness campaign was launched by Central Tibetan Administration. Why it happened now and what was the reason of starting this campaign?
P.Ts.:
Awareness of Middle Way Approach has been going on for many years. Since 2014 has been declared as the year to express our gratitude to His Holiness the Dalai Lama. Therefore the Central Tibetan Administration from the executive side, from the Kashag side, decided to have one of its programs to talk about Middle Way with general Tibetan population. Otherwise, awareness of Middle Way Approach from the parliament side has been going on for many years now. I do not see any particular reason why it has to be emphasized more this year, it's only because we are celebrating His Holiness's Noble Prize award. We are expressing our gratitude for all that he attained for the Tibetans and for the world at large. The special Committee was formed to celebrate this event and this Committee proposed this action to be taken by the Cabinet.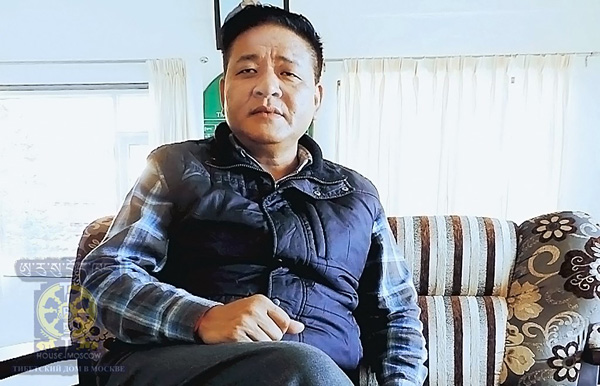 Q:
What has been done by the Central Tibetan Administration in connection with Middle Way Approach awareness campaign?
P.Ts.:
On one hand they need to be proper understanding of Middle Way Approach by Tibetan people in exile and Tibetans inside Tibet. The other angle is to spread understanding of Middle Way Approach to people in the whole world who support us. And the most important part is to make Chinese leadership understand what Middle Way Approach means. So many steps have been taken. And particularly with Chinese government from 2002 to 2010 had been nine rounds of dialogue when we have very clearly expressed our view on the Middle Way Approach. But we should also understand that Middle Way Approach is not necessarily a static position. It is a dynamic position. And to the people in the free world the Cabinet have been travelling and His Holiness has been talking about Middle Way Approach, the parliament organized many delegations to visit different countries to explain to parliamentarians, to other political leaders, to foreign offices, to Tibet supporters, to general population to make them know about Middle Way Approach. As for Chinese, His Holiness has over the last 15 years trying to reach out more to the ordinary Chinese, because the Chinese leadership is not willing to understand the actual perception of Middle Way Approach as it should be understood. Taken this initiative His Holiness tries to meet as many Chinese from overseas, as many Chinese who come from inside China to Dharamsala or elsewhere to talk about what Middle Way Approach actually means.
V.T.:
And what about ordinary Tibetans? How do they know about Middle Way Approach policy?
P.Ts.:
As for ordinary Tibetans, we can see that percentage of people who understand all the intricacies of Middle Way Approach is about 50%, but rest of the people, of course, also believe in His Holiness the Dalai Lama, they believe in Central Tibetan Administration. And that's why it is important for us to tell them what Middle Way Approach actually means, what are the advantages and benefits of this policy and how Chinese leaders perceive it. One can see that Tibetan Diaspora is spread all over the world, it's not located in one area – from North-East India to West India, from North India to South India, in Nepal, Bhutan and about 37 different countries.
We try to do as much as possible. On the one hand it's a very good that Tibetan people has a lot of faith in His Holiness the Dalai Lama, but on the other hand, they think that His Holiness will do everything. So they don't attach much importance to thinking about the Middle Way Approach. So therefore we go out to speak with younger generation of Tibetans, like last month I went to speak to about 8-9 different schools, from class 6 to 12. And I always tell them: "As Tibetans we have an extra responsibility. It is not enough to us just to make a living. We have no country, so it's very important that we give some time every day to read about the political development in China, in Tibet, internationally and in Dharamsala in order to understand all developments not just the concept. Because the concept also evolves according to political developments.
V.T.:
When I asked young Tibetans about Middle Way Approach policy, all of them said: we knew about it and support it. But at the same time when I asked them about movement for independence, most of them said: yes, we also support this way. For me it is difficult to understand how it possible to struggle and support both Middle Way Approach and movement for independence at one and the same time. Maybe there is lack of understanding what does Middle Way Approach mean and the circumstance that Middle Way Approach now is a short cut to freedom? What is your opinion?
P.Ts.:
I could see at large that if there is a forward movement in terms of Middle Way Approach, then more than 95% of Tibetans will support it. Right now there is no forward movement (in the manner that we would like to see, in terms of China's response). And that is not happening, so that is what for a stead the younger generation of people. I do not know how many youngsters you met, what background you met and all that, but understanding of Middle Way Approach is understanding the reality of the political situation internationally, in China, in Tibet and in exile. Only then we will get a wholesome and wholistic understanding the sense of Middle Way Approach. Now, to understand independence for Tibet. The Middle Way Approach does not say that Tibet was not independent. Tibet was independent, it's a different matter. We should seeking independence for Tibet in future or not - that is the question. What is His Holiness says is "past is past".
Tibet was an independent country and that is for historians to decide. Because China has its own view on Tibetan history, Tibetans have its own view on Tibetan history, westerners also have a view on Tibetan history. As for the younger generation of Tibetans, I always tell them: "Read Tibetan history", because there different areas of Tibetan history, different territories of Tibetan history. So therefore we have to take into consideration several realities. One reality is that no single country (whether it's United States or Russia or Europe) will come and fight for us against China. It's also goes against our Buddhist philosophy – we don't believe in wonders. Now if other countries cannot fight for us (that is assuming we take up violence), if other country like United States fought in Iraq or Afghanistan (it will not happen in Tibet for sure), if it's not going to happen, can we fight against China ourselves or not?
So these are two impossibilities: reality is that no single country in the world will leave the international interests first and take up the Tibetan issue. And the other reality inside Tibet is that now under the policy of assimilation, which the Soviet Union did to its republics, which the communist China copied from Russia, the policy of assimilation of minority nationalities with the Han majority. In the name of development so many railroads are being built in Tibet, so many roadways are linked, so many airports are being built. All these are not main for the benefit of Tibetans, it is main for bringing more and more Han Chinese into Tibet and take out Tibet's natural resources. So considering those situations, maybe if we don't get to go back to Tibet in the next 30-40 years then even autonomy or Middle Way will not make sense. That the younger generation feels to understand the larger picture, because most of them were born here. So that is maybe the mixed feeling why the younger generation believe in Middle Way Approach but at the same time they think that independence should be an option. If there is a real progress in Middle Way Approach then the voice for independence will go down. And His Holiness also says: "When I'm leaving and if there is Autonomy for Tibet I will go back into Tibet and explain to my own people that Autonomy is the best solution". When you are not completely aware as a young person who has a little experience or little knowledge of the overall situation, then you are bound to have a certain mixture of feelings, mixture of emotions, and mixture of beliefs. That is what may be happening.
V.T.:
You talked with young generation and not only with young generation, so what activities are being held for making people in remote villages, districts and counties be aware of Middle Way Approach? How can they know about Middle Way Approach except for information got from you and some officials?
P.Ts.:
Unless people do not come for meetings, we are 44 members of Parliament. Speaker and Deputy Speaker also go around. I visit Europe, North America, East Asia, certain areas in India and Nepal. Furthermore, all the Tibetan members of Parliament are divided into 15 zones in India, Nepal and Bhutan to speak about political issues, to speak about strengthening grassroots democracy, to speak about sustainability of our society, to speak about education system, to speak about people who are really poor, but not got help from the government. So we go to every corner where Tibetans live, it is not only me but the whole Parliament is doing that, Cabinet members and also people from Administration went to every place where Tibetans live.
V.T.:
Where such meetings are held - at schools, at universities or maybe some meetings are organized? So, where do representatives of administration meet people?
P.Ts.:
We go to each and every of 54 different settlements. Like now, this November, Tibetans are selling sweaters in different areas in India, we go to each and every Tibetan Sweater Sellers' Association, we go to each and every college, schools – all are covered in that sense.
V.T.:
What has changed in Middle Way Approach in the past and what changes will occur in the nearest future?
P.Ts.:
The seed of Middle Way Approach came to His Holiness in 1974. The next development was in late 1978-early 1979, when His Holiness' elder brother met Deng Xiaoping and latter said: "Apart from independence, all issues can be discussed". After that we sent few finding delegations to see the real situation inside Tibet. Then the first document that came into being in 1987 was the Five-Point Peace Proposal. Then explanation about the fifth point [of the Five-Point Peace Proposal] of autonomy for whole region of Tibet was in 1988 (Strasbourg Proposal) by His Holiness. At that time it seemed to be some positive gesture from the Chinese government saying that they would like to have discussion anywhere but later they retracted saying that "you have to announce before visit" or "there was American person in your delegation", so all fall to the ground.
Then in 1993 again His Holiness said: «Now the Chinese are not responding so my tea board is clear, it's not conditional on me to abide the 1987 Five-Point Peace Proposal and the 1988 Strasbourg Proposal» . On March 10, 1994 His Holiness said: «Now I will ask my people as to what future course of action should be taken». So we had two-three years of awareness campaign in all Tibetan settlements before we held a referendum according to the results of which more than 64% of Tibetans said that depending on the situation internationally, in China and in Tibet whatever His Holiness decide we will abide by it. And rest of the views we could not bring together, because so many different views. After that in 1997 the Parliament passed unanimous resolution saying we will follow this path. Then His Holiness confirmed that we will continue Middle Way Approach.
In 2002 there was an opening with China to talk. Initially it was not even talk. Members of our delegations were taken on visits to show how much China has developed and how much Tibet would develop and [Tibet] should come back. So eventually we explained to our delegation members, the representatives of His Holiness to explain to Chinese leadership about our views. Then there was a high point when China was organizing the Olympics in 2008. At that time they told that may be problems because of Tibetan issues, Uighur issues, Mongolian issues or issues within China itself. When the Olympic flame was taken around the world there were Tibet supporters who disrupted some [parades by] rallies. It became a huge concern for the Chinese government and at that time they said "Now what exactly His Holiness means by Middle Way Approach?" So they were asking for people. At that time, from 1988 Strasbourg Proposal, which was a general perception of what we want, to that of asking autonomy within the framework of Chinese constitution. With Chinese Constitution under Article 4 provides for national regional autonomies and under that Article 4 there is Law on National Regional Autonomy.
So we quote it from Chinese National Constitution and from the Law on National Regional Autonomy. Legally saying that Tibetan nationality has these, these and these rights under the framework of Chinese Constitution. So that was the tactical change in our approach to deal with the Chinese Government. And since the Chinese Government have no answer, because we were quoting from theirs own laws. Then they started telling some 15 embassies that Dalai Lama is not sincere and asking for semi-independence or covert independence. After that we made another explanation [and show that] Chinese explaining to the international community, which is not right. And in future, what would happen? Just as I said before, autonomy is not necessarily a static position, it is a dynamic position based on political realities at that time. There are strengths and weaknesses of the Central Government, strengths and weaknesses of local governments. In your own country you have example of Tatarstan in Russia. And we have studied a lot of autonomous arrangements - in UK we have Scottish referendum, Wales, Irish, Gibraltar; under Denmark we have Greenland and Faroe Islands: under Finland we have Aland Islands, South Tyrol in Italy, Catalonia and Basque in Spain - there are so many examples in other countries – Quebec and Nunavut in Canada, Bougainville under Papua New Guinea So we studied many autonomy cases [in the world].
But first we need some response from the Chinese Government. When there is no positive response, it does not make sense for us to come up with new proposals. What we believe is that people which we represent called "The Memorandum of Genuine Autonomy for Tibetan people". We think it's a very justifiable paper, it is paper that the Chinese Government can base on. Otherwise, they should come up with alternative proposals, saying "Ok, we don't fully accept your proposals, but we have these proposals to make to you". So it is not two ways, it just one way. [They should] helping us coming out with another proposals. It does not mean that we do not have other proposals, but right now it doesn't make any sense to come up the new proposals to the Chinese Government unless there is some willingness or some political will from the Chinese leadership that will really serious about resolving the Tibetan issue.
V.T.:
Maybe Chinese Government answered on Tibetan Issue that legally Tibetan region is an autonomy region, what do you wish else?
P.Ts.:
That is the problem. If you look at the Chinese national constitution, any expert on constitutional law would say that it is very good constitution. But there is also the communist party constitution [in China]. Now in China the communist party constitution is more important than the national constitution. So you have the parallel Government whether you have named it autonomous or not does not matter. Ultimately it is decided by the communist party. So therefore there is no real autonomy, it is autonomy only in name. That is also a reason why Tibetans inside Tibet do not understand why we ask for autonomy if China also calls it autonomy. That is the biggest problem. It is not just for autonomy for Tibet, it is with any other law in China .The law is very good and the national constitution is more like an elephant's tusks that shown outside and does not helps in eating. The communist party constitution is a real tooth. You have an experience yourself in Russia under communist Russia, under Stalin. Power of party. But problem is in trust deficit, it is a problem of trust. The Chinese leadership does not trust the Dalai Lama. Even we would like to trust the China communist party to come up with the resolution. Therefore today China is maybe the only country which spend more money for internal security than for external security. They do not trust its own people (Chinese people), they do not trust Tibetans, they do not trust Uyghurs, they do not trust Mongolians or any other minorities. There the problem is. If the Central Government is really sincere then they have to learn to trust other nationalities. And we are not coming out with a solution that is not acceptable to the Chinese Government.
The biggest concern of the Chinese Government is sovereignty. And we have addresses that by saying we will not ask for independence, will not ask for separation. We have been saying we are not asking for separation, we are asking for autonomy, so many times like Tibetan mantra, but the Chinese always calling us separatists, separatists, Dalai clique, Dalai clique. Who really wants China to separate? That is also a big question. It is a problem of trust deficit. Not just with Central Government, with Chinese people, not just with Tibetans, with Uyghurs, but with the whole world. Except for several countries which [perceived] China as the biggest bully in the world (so when the others smaller bullies face problem China try to keep them under the wings), but all other countries who deal with China, hearty trust China. That is the problem. If China has to become a responsible power today they have military power, they have political power, all other powers except for moral power. So if China has to gains some moral power, then they has to address their own people's problems, they have to address Tibetan people's problems, Uyghur people's problems, Mongolian people's problems. Only then China can be a unified, stable and peaceful country. Otherwise they will always have some problems. Even a dog, if you keep beating the dog, the dog also will safeguard himself. That's the similar situation with Tibetans or Uyghurs. When any kind of problems you always beat them, put them in prison, torture them. It does not help in bringing the trust.
V.T.:
You said that many countries trust the Chinese Government' words, but I think maybe it is not real trust, but mostly economic interests and economic relations?
P.Ts.:
That is also metaphorically in many senses. In Middle Ages, since time of history of human beings were always fighting on territory. Today the fight is not on territory, today a fight is on economic areas. So modern prime-ministers or presidents of countries, people on the multinational level, they dictate terms - how much our political leaders are saying, ultimately points down to economics. And for political leaders unfortunately, during their four or five year term – how much benefit they think that they can give to their own people . This is a very short-term prospective, not a long-term prospective. And in the case of China – as long as China behaves well with international community or behaves well with its own people – all is O.K. Another 20-30 years down the line how much will boundaries make difference? Except in terms of emigration from poor countries to developed countries. But otherwise everything is dictated by economy.
Therefore the question also arises the debate within Tibetan community. Sometimes people ask us: "Will China breaks up like Soviet Union?" I think these are two different issues and too different times. [During the] Cold War days there were not too much investments from European developed countries into Russia, because Russia was very developed at that time. Maybe Russia did not need so much investment to support itself. But today China's relations with the rest of the world is so interlinked, it's a globalized interdependent world. It is so much of interest from some places like Taiwan. Taiwan was the first who invest so much in China. And now you have so much investment from Europe and America and all developed countries. If something happens to China's economy, supposedly the second largest economy in the world, what could be the replication of the world economy? Even if China is going break down, I am sure that all nations will come together and make sure that China does not break down, because all their interests are there. It was not like that in the Cold War period between Russia and America. Those days we used to say: "When America coughs the whole world gets flu".
But today you need only Greece to make whole European Union gets flu, very small country. If something happens with Chinese economy, what could be the economic implication to the world? There will be chaotic situation. From the Tibetan prospective, we don't want to see anarchy in China because population. If there will anarchy in China how will that benefit the Tibetans or Uyghurs and rest of the world? It does not help. So the best way for the Chinese leadership now is to think about the smooth transition to a democratic setup. Things are changing and they are not very visible at some level. Things are changing from economic point of view and we need to take up any kind of reforms. So despite the domestic and international pressure on political reforms, internally it is bound to be discussions and thinking on how to evolve according to changing times. How much new technologies comes up, people use it, how much the government tries to come it down, people always come up with new.
Maybe right now the Chinese people also need China to keep the GDP ongoing growth. If the GDP growth comes down by 2-3% then we are not going to talk about 10 or 20 mln unemployed people, we are going to talk about 2, 3, 4 or 5 hundred mln people […]. Then what kind of social cues it will bring? The Chinese people are not living in such closed situation as it used to be. Now in the the world the largest number of tourists are Chinese. [Because] the huge middle class coming out. There is also huge rich and poor divide, rural and urban divide, labor problems. All these are still boiling. When the top will come out? Nobody knows. Corruption is a big issue right now, the leadership is trying seemingly to the outside world doing a very good job of it. But when we talk with Chinese who do not believe in the Government they say it mostly because of power jockeying. But as for Xi Jinping, how long can he keep this pressure ongoing, because if the other pressure forth becomes too big then it also became threat to his rule. So all these dynamics are happening. For us as for Tibetans it's very important that we keep the Tibet issue alive today. When the opportunity comes and when the more reasonable Chinese leadership comes then there will be definitely be a way to talk. But if we talk about independence it is a little difficult.
V.T.:
Are there some official statements of Chinese Government concerning Middle Way Approach, which are not related to general questions? May be some feedback or they are remain silence?
P.Ts.:
I'm personally as the Speaker of the Parliament not involved in the dialogue process. So I cannot comment on that. But in general we can see that there is a hardline group of Chinese who believe that His Holiness the Dalai Lama is very old, now going to 80 years next year. They think: «As human being He might live for another 5-10 years and then Tibetan issue will die internationally and in Tibet we can hold with an iron grip». So that is they thinking and follows this headline. Any small peaceful protest always clamped down with repressive measures. But there is also a group who little more liberal and believe that the Tibet issue will be resolved during the Dalai Lama's time and that Tibetans should be given religious freedom and things like that. So even those people who speak out, if they don't have some backing in the Communist Party they can not speak out like that. You know how Communism functioning. So we have to see which power, hardliners or soft-liners, become more powerful in the Communist Party hierarchy. There is also a question whether the Communist party can outlive the Dalai Lama or the Dalai Lama can outlive the Communist Party.
V.T.:
Are there some analytical or expert work carried out on the Middle Way Approach awareness in the context of ever-changing political situation worldwide? So you have some basic statements, focus areas, but situation changes every day. Do you make sometimes correcting's in the very basis of Middle Way Approach policy?
P.Ts.:
If there is a dialogue going on, if there are ongoing negotiations, then there may be space for changes. But right now there is a roadblock by the Communist Party and the Chinese Government. We are not able to move forward. So when we are not able to move forward it's not like an automobile where you can tinkle and change every day. These are long-term policies, which also need some response whether it from the international community and from the Chinese side and depending on those responses they make changes. When there are no responses, how can we make change all the time? Politically it is not lifeway to go.
V.T.:
What about international relations with other countries - European countries, United States, Russia? The situation in the world is changed. Does any changes influence on Middle Way Approach program, on some activities and solving some issues?
P.Ts.:
We watch the all international [situation], but there are so many problems in the world, not just the Tibetan problem. Downside is that people do not pay too much attention to nonviolence activities. That is unfortunate, but economic benefit overrides moral values. Unless it knocks your door next day, people in Europe and North America will not understand the situation inside North Korea, inside Tibet or similar conditions around the world. Russia and U.S. at that time were in very volatile situation. But even then, if you look at the stories of espionage, only today we understand, not at that time. So we watch the whole world political situation, how U.S. is moving, what U.S. is speaking to China about Tibet, and how Europe reacts to China's development, to economic relations with South-East Asia, Tibetan issue. Whether it media or political groups or countries - everybody focused only on violence in the Middle East, Syria, ISIS or Ukraine. Wherever there is nonviolent, peaceful movement going on - it's not too much focus. So therefore Tibetans are self-immolating in Tibet. That is a major problem. But it is not like we do not watch the whole situation. We watch the whole situation. I feel today that China is very smart concentring on all the other problems.
I say that China is smart, because they keep the North Korea issue alive. If China wishes they can alone resolve the North Korean issue. North Korean issue has been kept alive by China. Now it just become an international issue. North Korea, South Korea, Japan, western nations - everybody gets involved. And then there is no resolution. Then North Korea did something and all countries looks to China do that. So China is playing very important political card. Also China is keep whole South East Asia busy because of the South China Sea. So if you go to any of these South East Asian countries there were always be something of the South China Sea and China's aggression giving problems to the countries. So that is how China keeps a whole world busy. They cannot focus on China domestic problems. China today is adopting a very aggressive policy towards its neighbours, which gives them some excuse in future - if something happens with Communist Party or some challenge to the Communist Party internally in China they might short-term attack some territories just to distract attention of Chinese people, because the Chinese people are nationalistic. I believe that strategically Chinese leaders keep in the hand - if there is some domestic problem in China, then they will divert people's attention to other things. And worst of the worst, if something happens to Communist Party and if there is anarchy in China then it might go into the hand of military.
V.T.:
We are talking about international point of view but does Middle Way Approach campaign impact on domestic policy here in Tibetan refugee community, domestic policy of the Central Tibetan Administration?
P.Ts.:
It is difficult to separate political and other issues. When we talk about Middle Way Approach, we are talking about preserving our language, our culture, our religion, our way of life. So it is the most important facet of Tibetan policy since the time we came in exile till now. We focus on having Tibetan groups together, having schools, having educational institutions, having religious institutions. All that has been going on. But at the same time we are also going to lot of social change. Inside Tibet with our wish or without our wish there is a lot of pressure from Chinese to change. Educational system is being change by China. Now there is bilingual teaching, but Tibetan and Chinese languages are not on equal terms. Tibetan language now reduced only to Tibetan language as subject and all other subjects are in Chinese. So there we have problem. In exile, with freedom, people move to western countries and they are not located in one settlement like in India.
They are in one city, but in different places. But fortunately, again because of His Holiness the Dalai Lama, whenever His Holiness visiting other countries all Tibetans come together. Wherever Tibetans are, they form Tibetan associations. So in that way they are always together and when I go to Europe, I speak with Tibetans in Italy, in Germany, in Switzerland, in Belgium, UK and in Holland, but they all have Tibetan associations. And here [in Dharamsala] the officers of Tibet keep in touch with Tibetan associations. When we call we speak to them directly, when Cabinet members call they also speak to them. So in that way at least we able to keep the network together also using technology. Not bad, but these challenges we need to face in future, because the community becomes more diasporic.
V.T.:
You said that every time you meet Tibetans here in India, in European countries and United States you told them about Middle Way Approach. What is your personal role in Middle Way Approach?
P.Ts.:
Middle Way Approach was first proposed by His Holiness but it was unanimously adopted by the Parliament as a policy in 1997. So it's a job of the Parliament to make people aware of this position. Of course people are aware about it, but then small intricacies of new development are happening. In that way we keep people updated about it. Now, even the Tibetan Parliament session here is being watched directly by Tibetans in western countries through the Internet. We keep it on Youtube, we keep it on Tibet Online. So there is more interest about understanding current issues, situation inside Tibet. We speak of course about lot of other things, other than Middle Way Approach. These days what I try to do - I try to speak a little at the beginning and then I give time to discuss everything in question and answer form. Like last year I was in Minnesota, Chicago, Madison, Connecticut, New York, Washington. In Minnesota I spoke for about 20 minutes and 5 hours and 40 minutes lasted questions and answers. That much time we gave to people. I cannot go to each settlement every year. I reach them once two-three years, and some places – once a five years. But other members of Parliament are going. So from my perspective I do that. Wherever questions being raised about some confusion or some misunderstanding, some doubt - it's my job to clear such doubt.
Q:
The Tibet issue is partially interlinked with Indian international relations. Are there any activities on Middle Way Approach carried out together with Indian authorities? If yes, then at which level? Is it a level of political parties or in cooperation with Ministry of external affairs of India or is it a level of NGO's? In fine, how you connect with India on the issues of Middle Way Approach?
P.Ts.:
We maintain a very transparent relationship with the Government of India. Particularly through the Ministry of External Affairs. So whatever we have what we propose to Chinese Government, whatever happens, Indian Government knows about it. This is government-to-government level - Central Tibetan Administration with Indian Government. So there are very transparent and trustful relationships. Therefore we are always very thankful to Indian Government for it. But I don't think they suggest that we do this or we do that. We tell them what is going on. If they have objections, maybe they tell us. But I am not directly related doing that, because Office in New Delhi is responsible for meeting with Ministry of External Affairs and Kashag is responsible for meeting with political leaders at that level. We inform political parties. Like in few days, on [December] 6th, nine members are going from here in three differed groups, since there is new Government [of India], new parliament, we plan to meet as many members of Indian Parliament as possible.
We explain them individually and we explain to the party. But how it reflects at the national level, just like any other country. Of course, India is closest to us and we are refugees here, they have given us all humanitarian assistance. But on the political front, India's national interests for India also will come first, but at the same time it's our job. Many Tibetans are dying, many Tibetans are suffering in prison in Tibet. And our job is to make all countries, including India, aware of situation in Tibet. There are so many sources, which Indians also don't know, which we know. Through technology, through WeChat, through telephone we can get more information from inside Tibet, because journalists are not allowed, diplomats are not allowed to visit Tibetan Autonomous Region and other areas. So our job to do that and we have been doing that with Indian Government. There is good trust factor. We have very transparent relationship, because we have nothing to hide. How much will Indian Government come out openly in support our issues it's up to Indian leadership.
Q:
And what about Indian NGO's?
P.Ts.:
We reach out to Indian Tibet support groups (there are quite a number of them in India) and we reach out to universities, reach out to other groups. But India is also very huge and you know our population is very small - financial, manpower – everything is scares. So we try as much as possible to reach Indian Tibet support groups. Meetings are also held once two-three years. Last month I was in Tawang, in Bomdila, Arunachal Pradesh. Meeting was organized by Indian Tibet support group called Bharat Tibbat Sahyog Manch. We always have such interaction but now there is also a generational shift for more than 54 years that we came into exile (and most 55 now). And older generation politicians know about the Tibetan issue, because it happened during their lifetime. Now younger generation of Tibetans and Indians do not know much about the past history of Tibet. So we organize programs like exhibitions from the Department of Information and International Relations. Tibetan Government also organized programs. From the Parliament side we organized three groups to reach out governors, chief ministers, speakers of different states last year. So all these are ongoing, because we need more awareness. And His Holiness the Dalai Lama visiting different universities and speaking to students generally about moral values like peace, compassion but also about the Tibet issue. So those things are going on.
V.T.:
But I suppose that main activities take place in states of Himachal Pradesh, Karnataka and Arunachal Pradesh as place where the majority of Tibetan refugees are settled?
P.Ts.:
Of course, wherever Tibetans live, in any of the Indian states, there are relations, but most of our political activities are based in Delhi. It's a political capital.
V.T.:
What problems have you encountered during the course of Middle Way Approach implementation?
P.Ts.:
Problems are from the Chinese side. Because of the Middle Way Approach we are able to reach out. If we talk about independence, then other governments will not meet us – parliamentarians will not meet us, foreign offices will not meet us. Because of the Middle Way Approach we able to reach them, explain them the situation. So there we don't see so many problems. But of course China's growing influence in the world in economy, energy, in all global issues – security, military, political. They are putting a lot of pressure at various levels. But despite all this, there still people who are willing for standing for truth and justice. So only problem is the Chinese leadership. If they open the door a little bit to talk. Now it is the XXI century. If there will peace in Tibet then will be more peace in China. This reflects everywhere. Even when His Holiness now suggests Middle Way for many years, even Uighur leaders like Rebiya Kadeer (I met her every times). She also says: If China listens to pragmatic approach of His Holiness and find the solution, we will also follow His Holiness. So there is a ripple effect, good ripple effect. If Tibetan issue will be resolved, if Uighur issue will be resolved and some solutions for Mongolians, then there are not much of minority issues. Then you can give more freedom to Hong Kong, Macao, freedom to your own people, because 1.4 billion Chinese people have the right to know what the Government is doing for them. It has to be some transparent. Freedom also should be given gradually. "At once" will also be a problem. So now is right time for the Chinese leadership to take up small steps in the right direction.
V.T.:
But as far as I understand, there are no any special problems in implementation of Middle Way Approach programs inside Tibetan community, everything is clear, isn't it?
P.Ts.:
There are several groups which still seek independence. But that also I said: if there is forward movement in Middle Way then voice for independence will be less. If there is no solution, if there is no reflection on Middle Way Approach then this voice for independence will goes up.
V.T.:
Do you have enough resources to promote Middle Way Approach policy?
P.Ts.:
There is no doubt that majority of the people support Middle Way and there is no other way. That is why we always say: If you have a better solution, if you have a better way – place come out with it. Then we will examine that and then we might change our course. But right now there is no better way.
V.T.:
What do you expect from international partners, international organizations, official organizations and NGO's?
P.Ts.:
NGO's and public level, it is very important for us to reach out to the public level, because politicians react according to what public wants. Because ultimately they need people's votes. But considering our resources, only because His Holiness is such a huge leader in this world we able to gain so much support. Otherwise considering our financial and human resources (now there are 150 000 Tibetans in exile) how much can we to reach out in this more than 6 billion population in the world and everybody also has their own problems. So we have to focus and direct our energy to political leaders and wherever it possibly political leaders are not listening then there are public gatherings where His Holiness speaks. The very fact that Tibetan issue has been kept alive for so many years is also huge success.
V.T.:
My last question is what are your plans regarding Middle Way Approach for the next 2015 year?
P.Ts.:
For the Middle Way specifically from our side, from the Parliament side, I do not think that we need to do anything particular except to continue what we are doing. Now there has to be renewed focus on getting in touch with Chinese leadership, whether it two-track or three-track approach or whichever way, to find some way to reach out to them and to see the possibility of dialogue. That is the most important. The dialog has to be renewed. That is more important. When there is some progress, then everybody is interested. And there is how things will move forward.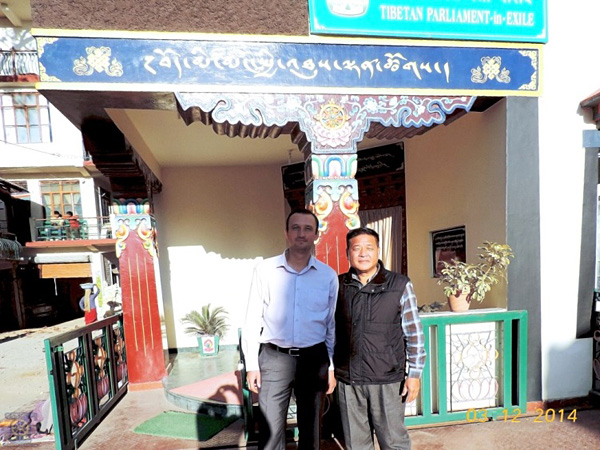 V.T.:
Thank you very much for your time and conversation. I wish you success in your challenging task to preserve Tibetan culture and identity as well as to find optimal solutions to problems in most favorable way for Tibetan people. Thank you very much.
© Tibet House Moscow