Kashag Sanctions Rs 15 Lacs for Immediate Reconstruction of Lal Qila Tibetan Market
8 ноября 2016
The Kashag of Central Tibetan Administration sanctioned Rs 15 lacs for immediate reconstruction of Lal Qila Tibetan market in Delhi which was gutted in a massive fire this morning.
Sikyong Dr Lobsang Sangay who has taken a personal initiative in the relief efforts, expressed profound sadness over the incident. Sikyong assured that the Central Tibetan Administration will do its best to provide support for the Tibetan shopkeepers.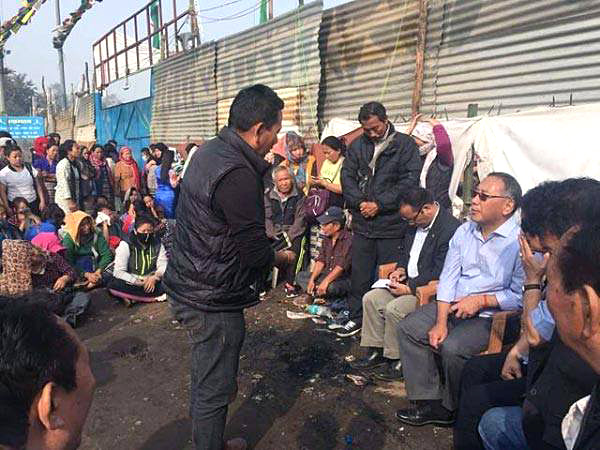 Education Kalon Ngodup Tsering and Secretary Tsewang Gyalpo Arya,
bureau of His Holiness the Dalai Lama, Delhi assessing the situation at Lal Qila Tibetan market
post the fire incident, 8 November 2016.
Education Kalon Mr Ngodup Tsering and Mr Tsewang Gyalpo Arya, Secretary of Bureau of His Holiness the Dalai Lama in Delhi led a damage assessment visit to the market this morning around 9 AM. The Education Kalon, Secretary Tsewang Gyalpo Arya and Mr Lakey Dorjee, Settlement Officer of Samyeling Tibetan settlement in Delhi held a meeting with all the Tibetan shop owners at Lal Qila market.
As per the reports, the fire broke out around midnight of 7 November. Due to combustible nature of goods at the shops, the entire market, consisting of 138 shops, was charred in the fire. The sentry called fire service which arrived within half hour but were unable to extinguish the fire. More fire fighters had to be called.
Kalon Ngodup Tsering expressed regret over the incident and consoled the Tibetan sweater sellers. He urged the Tibetans to work in unity in rebuilding the shops and make best use of the remaining business months. Mr Lakey Dorjee, Samyeling Tibetan settlement in Delhi was asked to submit a complete report on the incident and the damages incurred at the earliest.
People expressed their satisfaction to see representatives of Central Tibetan Administration visiting the area in time and meeting the people. Shop keepers are Tibetans from Delhi, Manali, Puruwala, Shimla, Bylakuppee, and some Tibetans from Srinagar.
Mr Sonam Topgyal Khorlatsang, Kalon of Department of Home said that the home department is further planning and working on assisting the shop owners to recover the loss as per the rules of emergency relief to such incident.
Although there was no loss of lives, damage to the merchandise is estimated at Rs.12 Crore (Rs.120 million). Settlement officer reported that request has been made to local Indian leaders and supporters. Some donation collection plan are also in the offing.
Those who wishes to contribute towards the reconstruction of the Tibetan market may contact Tibetan Settlement Office in Delhi. Telephone: 011-23816814 or e-mail: tsodelhi@tibet.net
Sweater selling has been one of the main livelihood of majority of the Tibetan refugees in India. With the onset of October, Tibetans are scattered in different parts of India selling sweaters in makeshift Tibetan Refugee market until February.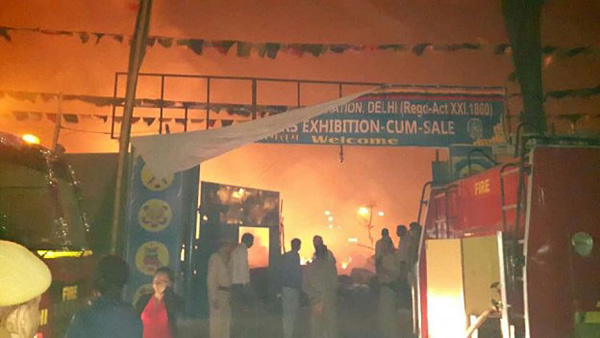 Lal Qila Tibetan market caught in fire.
138 shops reduced to ashes.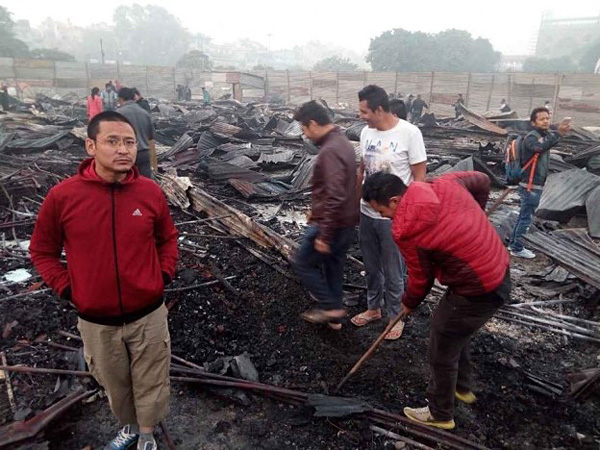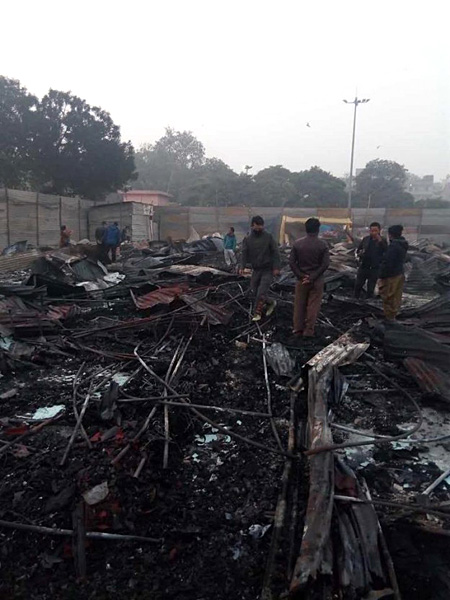 By
tibet.net