First Buddhist temple in Moscow will be built by the Buddhist Traditional Sangha of Russia
On December 1, 2016 the ceremonial event in honor of the state registration of Moscow Buddhist local religious organization "Legshed Darjeeling" was held in Moscow.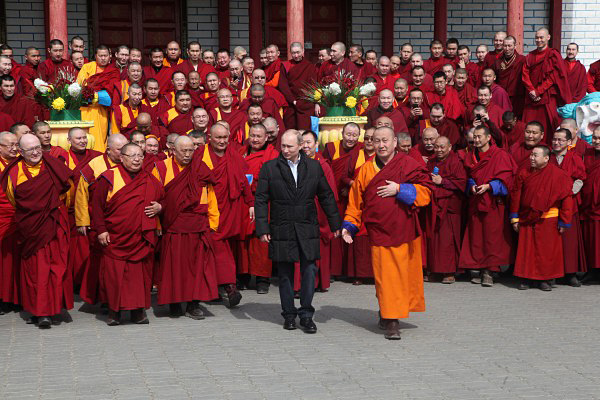 President of Russian Federation Vladimir Putin and His Holiness Khambo Lama Ayusheev,
Lamas of the Buddhist Traditional Sangha of Russia, Ivolginskty Datsan, Buryatia Republic, 2013
Bair Lama Tsympilov, the abbot of Chita datsan (Zabaikalye Territory), created and took the lead of the new Moscow Buddhist community with the blessing of Khambo Lama Damba Ayusheev, Chairman of the Buddhist Traditional Sangha of Russia, and assisted by the Buddhists of Moscow.
Construction of the Buddhist datsan in the city of Moscow is one of the main objectives of "Legshed Darjeeling".
The ceremony was attended by the founders of "Legshed Darjeeling", coworkers and Bair Lama's brothers in faith from Chita datsan and the Russian Association of Diamond Way Buddhists of Karma Kagyu Tradition, senior officials of the Russian Federation Presidential Administration and the Government of Moscow, the heads of Plenipotentiary Representatives of the Buddhist Sangha and the subjects of the Russian Federation where Buddhism is traditionally practiced - the Republics of Buryatia, Kalmykia and Tuva, and Zabaikalye Territory, as well as the representatives of Muslim community, - all of them wished success to "Legshed Darzhaling" community.
Official site of the Buddhist Traditional Sangha of the Russian Federation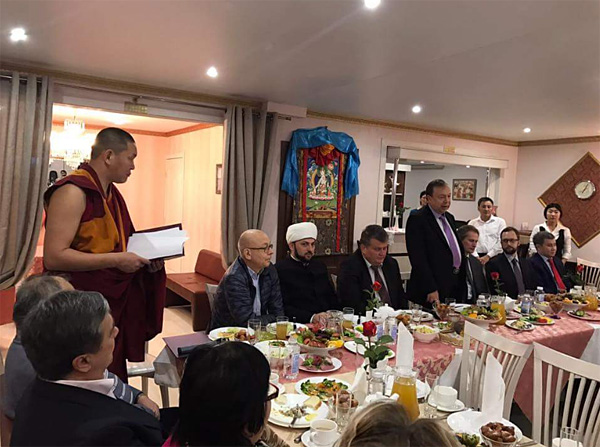 Mr.Konstantin Blazhenov, Deputy Head of the Department of National Policy and Interregional Relations of the city of Moscow welcomed new members of the Buddhist organization and its friends.