Sikyong Addresses 3rd India Ideas Conclave at Goa
GOA: Addressing one of India's largest conclave of public intellectuals and policy makers at Goa on Saturday, Sikyong Dr Lobsang Sangay said that the Tibetan movement must succeed for its strategic importance for the environmental health of the world; for preservation of India's democratic principles and Ahimsa and for the preservation of Tibet's unique culture, identity and civilisation.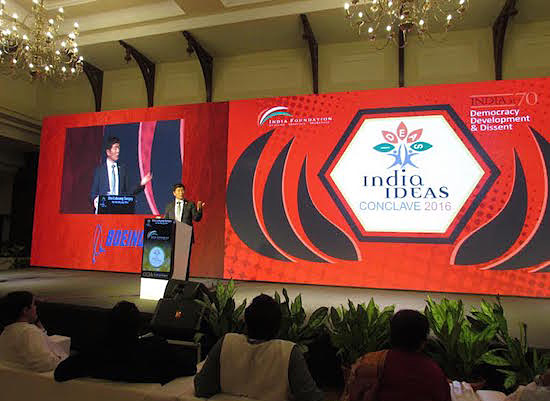 Sikyong Dr Lobsang Sangay addressing the 3rd India Ideas Conclave at Goa,
organised by India Foundation, 5 November 2016.
In his remarks, Sikyong emphasised the role of Tibet as the water tower of Asia and the source of India's cradle of civilisation. "Predictably, soon wars will be fought over water and Tibet is water tower of Asia. The cradle of Indian civilisation starts from Tibet. The lifeline of Assam and Bangladesh has its source in Tibet, including the cradle of Chinese civilisation – the yellow river. China is facing scarcity of fresh water but the situation is worse in Bangladesh, India and Pakistan, the downstream nations. Brahmaputra waters are already receding because China is building more and more dams on the Tibetan river. That's why Tibet is vitally important for the whole of Asia."
Sikyong noted that success and protection of Tibet is beneficial to India as well. "The rich traditions of Nalanda are best preserved in Tibetan language and literature. His Holiness the Dalai Lama is an excellent messenger of peace and Buddhism. In that sense, although we are refugees, this is our contribution to this great civilisation, the Tibetan people have preserved the Nalanda tradition," he said.
Sikyong hailed the Tibetan movement as a real Made-in-India movement in every respect. "Today we are talking about democracy, The Tibetan people have adopted and adapted the Indian ideals of democracy in our society. We have a Central Tibetan Administration in Dharamshala, which runs our own Tibetan settlements and schools – subsidised by the Indian government. The Buddhism-based Tibetan culture and identity has flourished from India in the early 7th and 8th century. Therefore, the Tibetan movement is actually a Made-in-India movement and it is relatively a success story, because of this great country India," Sikyong said to the large gathering of scholars and leaders who welcomed his remarks with a huge applause. Make in India is one of the flagship initiatives launched by Prime Minister Narendra Modi to encourage multi-national, as well as national companies to manufacture their products in India.
The Tibetan political leader prided the well-organised and democratic administration of the Tibetan people.
He extended gratitude to the Government and People of India for making the Tibetan movement thrive in its second home, India.
Closing his remarks, Sikyong said, "We must succeed so that His Holiness can return to his homeland and the Tibetans inside Tibet, who are suffering for decades with the hope that His Holiness will soon return to Tibet. When that happens, truth will prevail, justice and Ahimsa will prevail and Made-in-India will prevail."
Sikyong participated in the 3rd India Ideas Conclave held from 4 – 6 November 2016 at Goa organised by India Foundation based in New Delhi. He was invited as a Special Speaker by the Foundation to speak on the central theme of the Conclave: India at 70 – Democracy, Development & Dissent.
The conclave was inaugurated with keynote speeches from His Holiness the Dalai Lama, via a video message, Swami Tejomayananda, Global Head of Chinmaya Mission, Mumbai, Shri Sher Bahadur Deuba, former Prime Minister of Nepal, Shri Suresh Prabhhu Union Minister of Railways and Shri Amit Shah National President, BJP.
Some of other esteemed speakers were Shri Arnab Goswami (Editor-in-Chief, Times Now, Mumbai), Ms Taslima Nasreen, Author, Shri Sajjad Lone, Minister for Social Welfare, Science & Technology, Agriculture & Rural Industries, J&K, Shri Aroon Purie, Founder- Publisher, Editor-in-Chief, India Today.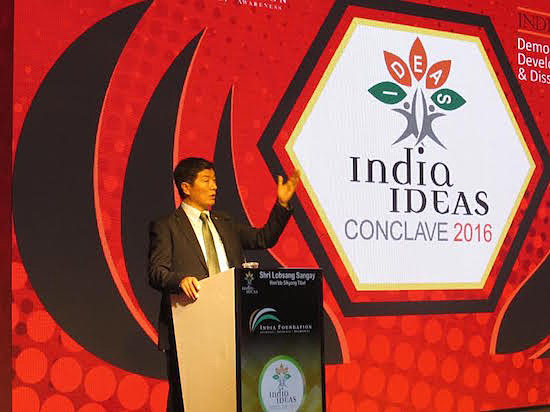 Sikyong addressing over 350 intellectuals, scholars and government leaders
at India Ideas Conclave, Goa, 5 November 2016.

By
tibet.net