Parable-performance based on orient folk parables
«Theatre on the Riverbank» invites you to see «The Mule`s Students» - parable-performance based on orient folk parables on January 24, 2016, at 7 p.m.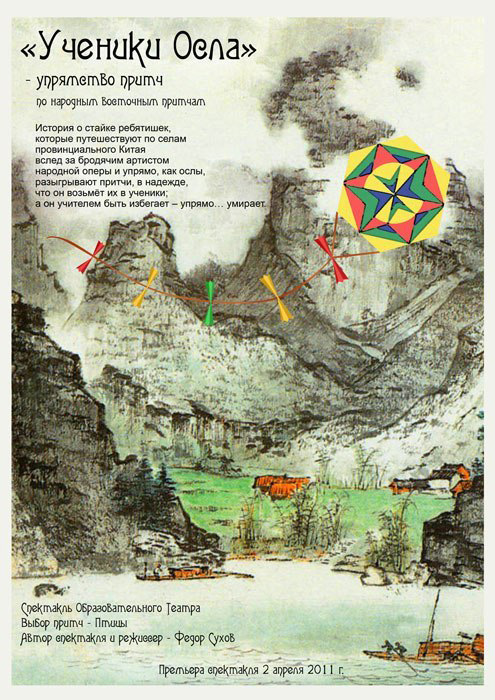 «The Mule`s Students» performance is set in China of today in a small mountain village of the Yunnan Province. A flock of kids calling themselves "birds" came to this village on the day of Ching Ming Festival – the celebration of Heaven and Earth's equilibrium. They give themselves out for students of one strolling actor of a folk opera who doesn't intend to recognize them. The wonderer is in the village's hospital and he refuses to meet these kids. But the "birds" keep on playing parables on the main square of the village being as stubborn as a mule in their striving to collect some money for their "teacher's" treatment. And he gives them his one and only lesson.
Playwriter and stage director – Fedor Sukhov.
The admission is free but pre-registration is needed as all the seats are secured personally by name.
Please, use pre-registration at the online public forum page
or phone by calling 8-499-242-56-85 to the «Theatre on the Riverbank».
The play is suitable for family viewing and childlen 7 +.
Location:
«Theatre on the Riverbank»,
48 Frounzenskaya Naberezhnaya («Park Kultury» or «Sportivnaya» metro station)
Web-site: www.nabereg.ru
About «Theatre on the Riverbank»
«Theatre on the Riverbank» - was founded in 1980 in Moscow by the group of volunteers under the artistic leadership of Fedor Sukhov – professional stage director, theatre and film actor, world renown drama teacher and the winner of honorary title «Teacher of the Year of the Russian Federation».
The Theatre was founded as a partnership of adult professionals and children. Their common work on staging and acting in performances are based on open-minded and open-hearted, conscious, responsible cooperation and co-creation. These days the repertoire of the «Theatre on the Riverbank» includes about 35 names of drama performances and has about 4 first nights every season. The performances appeal to audience of all ages.
«Theatre on the Riverbank» regularly participates in national and international Theatre festivals in France, Finland, Israel, Croatia, Austria, Estonia, Ukraine and Belarus.
Contact:
8 903 611 46 44 - Oksana Daniluk, curator.