The Buddhist University announces admission of students
Information for future students of the Buddhist University "D.-D. Zayaev Dashi Choynhorlin" for full-time studies.
How to enter the Buddhist University?
Documents are accepted in the period from June 20 to August 1, 2016. Applicants shall take three entrance examinations. Interviews and exams shall be held from August 2 till August 6, 2016. Examinations beginning: 10:00 a.m.
Interview: August 2, at 10:00 a.m.
Testing on Buddhism (History of Buddhism): August 3, at 10:00 a.m.
Written reproduction in Russian: August 5, at 10:00 a.m.
General meeting: August 6, 10.00 a.m.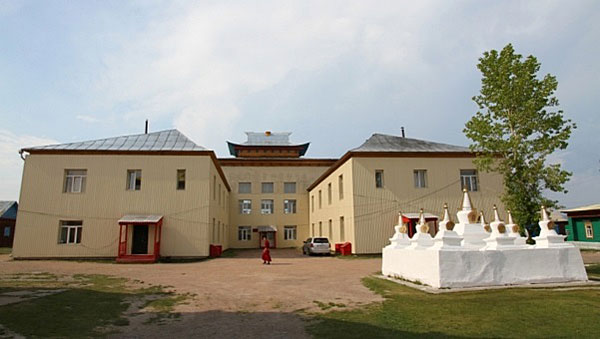 List of documents required to enter the Buddhist University:
Certificate of General Education or a certified copy thereof.
Application signed by an applicant personally
Medical Certificate, Form 086
Photo (6-8 pcs., 3х4, matte)
Photocopy of passport
Medical certificate issued by Psychoneurological Dispensary on absence of psychiatrist's supervision
Documents confirming benefits for admission in case of belonging to appropriate category (for example, a full orphan, a disabled child, etc.)
Health insurance policy (copy)
INN (Taxpayer Identification Number)
Certificate of prophylactic immunization
Insurance Number of Individual Ledger Account (copy)
Training assignment issued by datsan
The Buddhist University "Damba-Darzha Zayaev Dashi Choynhorlin" was founded in 1991. In 1999 the University obtained the state license and status of Higher Educational Institution. The main purpose of the University is revival of Buddhism and Oriental studies in Russia, training of staff Lamas Priests for datsans being actively restored in ethnic Buryatia, the Buddhist scientists and orientalists, interpreters, translators and other specialists.
The University students study the Buddhist philosophy, logic and epistemology, Tantra, rituals, astrology and many other things. The training is based on Gelug tradition. The students learn ancient Buryat script, Tibetan and English languages, computer literacy, history and ethnography. They also keep hand in translation of canonical texts.
The University professors are the teachers graduated from Drepun Goman Datsan (South India) and received the degree of Geshe. It is planned to increase the number of special disciplines in accordance with programs of monastic schools of prerevolutionary Buryatia.
There are four faculties at the University: philosophical, tantric and iconographic. The training program includes the following subjects: Lam-rim (study of Bogdo Tszonhava writings), Sogchen (learning of liturgical texts), Duyra (logic and epistemology), Dagrig (study of logical attribute and its properties), Lorig (study of consciousness and its components), Paramita (Teachings of the Buddha), ancient Buryat script, history, English, grammar of canonical Tibetan language and spoken Tibetan language, history of Buddhism, features and practice of Buddhist texts translation, iconography, astrology of Mongolian peoples and other disciplines. Upon graduation from the University, the graduates get Diploma of Higher Education and the title of Lama, as Press Service of the Sangha of Russia reports.
In case there are any questions, please call:
8-983-459-0985 (Tubten Bagsha).