Buddhist Pilgrimage in Gujarat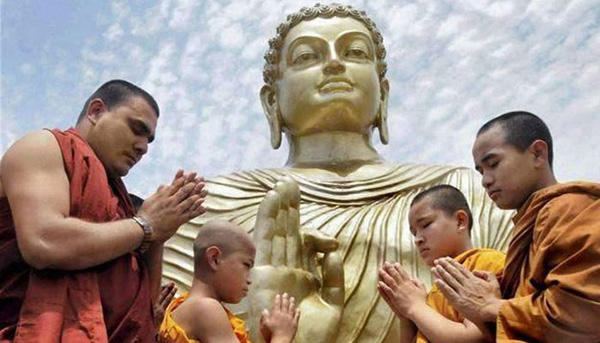 Photo by Zee TV
Gujarat, so far known as the pilgrimage center of Hindu and Muslim, plays the role of hosting Buddhist pilgrimages too. One can see the traces of the Saurashtra, a region in Gujarat, in some of the famous Buddhist literature books like Indriya Jataka, Milinda Panha, Petavatthu, etc. Earliest archaeological evidence of Buddhism presence in Gujarat was found by Chinese traveller Hiuen Tsang in the year 640 AD. Chinese traveller Hiuen Tsang noted the presence of 200 monasteries housing 10,000 monks at Bharuch, Atali, Kheta, Valabhi, Anandapura and Surashtra.
Another Chinese traveller, I-tsing, explored Gujarat in 670AD. He observed that Sammitiya School (one of the eighteen or twenty early Buddhist schools in India) had the greatest followers in western India. Many of Gujarat's famous towns like Vadnagar, Devnimori, and Junagadh are blessed with the presence of many Buddhism monasteries, temples and hills. See below for the detailed information about Buddhism tourism destinations in Gujarat:

Valabhi: Valabhi in Gujarat is a famous town place for Buddhism studies. I-tsing, the famous Chinese traveller stated that Valabhi University stature is at par with the Nalanda University.
Vadnagar: Vadnagar, located 128 kms away from Ahmedabad, is an archeological site positioned between River Banas and River Rupen. Within Vadnagar, there is a 12-cell structure that belonged to a Buddhist vihara or monastery and housed monks from the 2nd to 4th century. Hiuen Tsang, who visited Vadnagar (then known as Anandapur) in the 7th century, reported that the city had some 10 sangharams (resting places for Buddhist monks) with 1,000 Buddhist monks.
Devnimori: Devnimori has a large Buddhist establishment that dates back to the period between 2nd and 7th centuries. Better known as hot springs, Devnimori was an important Buddhist monastic center 1600 years ago. Years back, Ashoka erected 80,000 stupas across India. He unearthed those stupas and distributed them across the country. One such 4th-century stupa was dug out in the early 1960s at Devnimori. Buddha's ashes and 17 terracotta statues of Buddha that were dug out of the site are now exhibited in Department of Archaeology at The Maharaja Sayajirao University, Vadodara.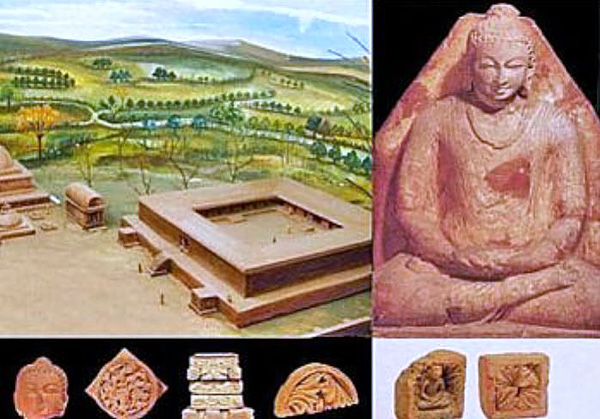 Junagadh District: The ancient fortified city Junagarh was presided over by Emperor Ashok. Being a Buddhism follower, he built many monasteries and stupas in Junagarh. Junagarh is sprinkled with many rock-cut monasteries and stupas at 15-odd sites such as Panheswer Caves, Mai Gadechi, Matri, a structural monastery at Intawa, brick stupa at Bordevi and Vajrapanat. Ancient monasteries, stupas and caves have revealed that Gujarat was once major Buddhism hub.
Buddhism Footprints in Gujarat are:
Buddhism Caves: There are many caves in Gujarat that are a beautiful combination of history, spirituality, mystery, meditation, and adventure. Starting from Kutch to Saurashtra up to Bharuch, the coastal region of Gujarat is dotted with many Buddhist caves. These caves were dug out between 2nd century B.C. and 6th century A.D during the Kshatrapa rule. Once upon a time, Junagarh in Gujarat was governed by Emperor Ashoka who adopted Buddhism in his personal life. During the reign of Ashoka, engraving of his famous edicts on the rock was ordered. The ornate excavations and carvings on pillars, stupas, viharas and range of rock cut caves is evidence of the presence of Buddhism in Gujarat.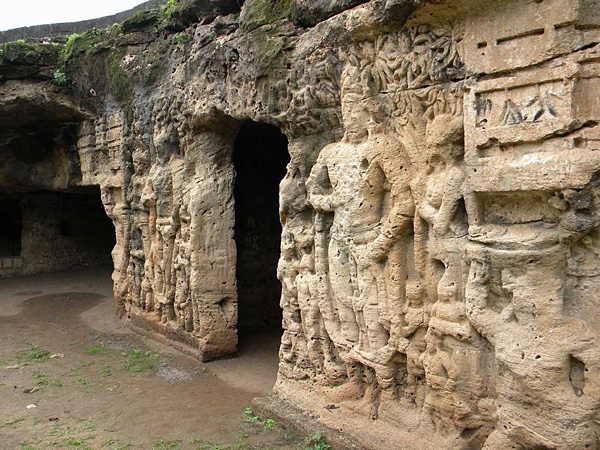 Carved out of Monolithic Rock, the three-tiered caves at Uparkot are said to be 2000 years old and are the oldest monuments at Uparkot. Khambhalida Caves, famed for its exquisite carving of Bodhisattva is also an important Buddhist Pilgrimage destination in Gujarat. Siyot Caves in Northwest Kutch, Devni Mori in Shamlaji, Sana Caves in Somnath and Kadia Dungar Caves in Vadodara are some of the other Buddhist caves in Gujarat that has a rich historical significance.
Hills: In Gujarat, one can find the presence of Buddhism preaching and temples even on the hills. On the top of the Taranga Hills, one can see a beautiful Dharanmata Temple dedicated to Devi Taranmata. The idols of Taranmata and Dharanmata are of Buddhist Goddess Tara, the "Mother of all Buddhas," which usually refers to the enlightened wisdom of the Buddhas. Inside the temple, one can see the head of the marble sculpture of the Goddess Tara, a lotus on which rests the Amitabh Buddha. Historical facts even state that Taranga hill was Tantrik Buddhist centre till the 9th century.
The Talaja hills in Bhavnagar are famous for its 30 ancient Buddhist caves cut into the rocks. The most impressive structure is the Ebhala Mandapa, a large hall with four octagonal pillars in the front.
Monasteries: As per the records of Hiuen Tsiang, there were about 200 monasteries with 10,000 monks living in them. These monasteries were located at Bharuch, Atali, Kheta, Valabhi, Anandapura and Saurashtra. Within the fortified region of Vadnagar, one can witness the beautiful Buddhist monastery, made between 2nd and 7th century. Monastery came into limelight when two years excavations took place in Vadnagar region of Gujarat. The arrangement of cells around the central courtyard creates a swastika-like pattern. A large number of religious objects have been recovered from the monastery area, besides a variety of pendants. Also, Than Monastery in Bhuj is quite a famous monastery of Gujarat. The monastery positioned on the foothills of Dinodhar Hill is dedicated to Dhoramnath, who is said to have performed rigorous penance here for 12 years. First floor walls of the monastery are decorated with beautiful Kamangari Paintings.
Gujarat tourism keeps on organizing international conferences to promote Buddhist tourism. Multiple programs highlighting the contribution of Buddhism and its philosophy were started by Gujarat Tourism. All these sites are unrivalled in their own way. Admire the stunning and unique shrines, temples and caves on a Buddhist pilgrimage tour to Gujarat.
Pilgrimage For Buddhist

Name

Location


Caves

Uparkot Caves

Junagadh City

Khambhalida Caves

Rajkot

Siyot Caves

Northwest Kutch

Devni Mori

Shamlaji

Sana Caves

Somnath

Kadia Dungar Caves

Vadodara


Monastery

Buddhist Monastery

Vadnagar

Than Monastery

Bhuj


Hill

Taranga Hills

Mehsana

Talaja Hill

Rajkot
Interesting Facts: As per the media reports published in the year 2015 as India's biggest Buddhist temple will be set up in Gujarat with the help of Tibetan spiritual guru the Dalai Lama.