Russian Ministry of Culture donated statues to Buddhists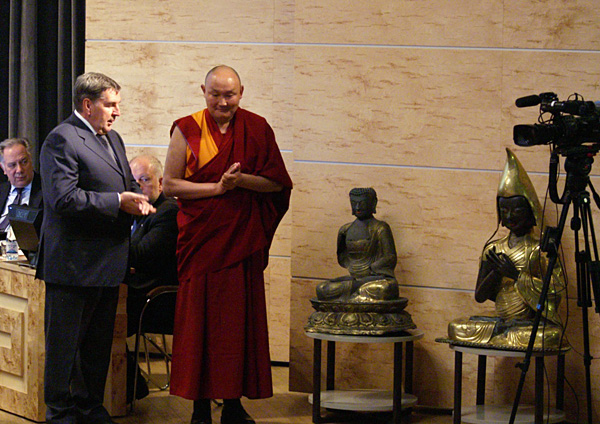 The delivery ceremony of two Buddhist statues stolen in the 1990s was held in the Ministry of Culture of Russia.
The ceremony took place at the Collegium of RF Ministry of Culture. The shrines will be delivered to the Ivolginsky datsan where they were kept before the 1990s.
"These statues of Buddha and Tsongkhapa were created in the late 19th and early 20th century in Inner Mongolia. In the early 1990s they were lost in unclear circumstances and in 2012 they were tried to take them out of our country to sell them abroad, - Kirill Rybak, Counsellor of RF Minister of Culture, said at the ceremony. He added that illegal trafficking of these statues was stopped by RF Customs officers and the Federal Security Service.
The Ivolginsky datsan is not only the Center of Buddhism in Russia but the residency of two hierarchs of the Buddhist world - the current XXIV Hambo Lama Ayusheev and XII Hambo Lama Itigelov, are located in the territory of this datsan.
The ceremony was attended by A.D. Tsyrendylykov, Shireete Lama of the Ivolginsky datsan "Khambin Khuree"; А.А. Balzhirov, Permanent Representative of the Buddhist Traditional Sangha of Russia in Moscow; and A.D. Namsaraev, Head of Information and Public Relations Service of the St. Petersburg datsan of the Buddhist Traditional Sangha of Russia.

By:
mkrf.ru