Jhado Tulku Rinpoche' visit to Moscow in May
The Center "Four Noble Truths" is glad to invite everybody to the teachings by Jhado Tulku Rinpoche, one the most outstanding teachers of Buddhism. The teachings will be held on May 17-19, 2018 in Moscow. The teachings are for all interested who strive to receive Dharma of the pure lineage.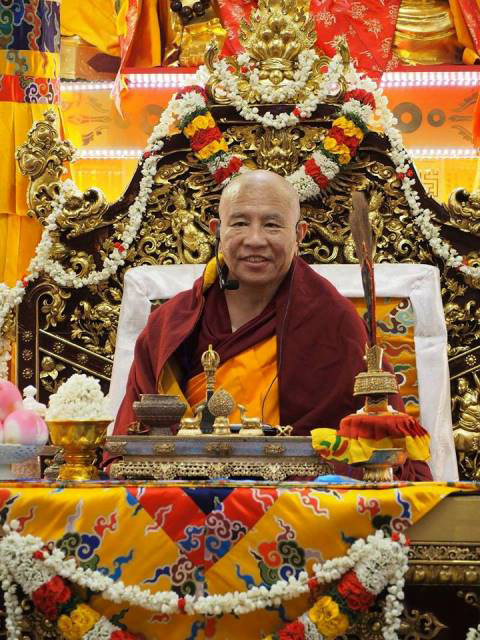 Jhado Rinpoche.
Photo: Odkhanbayar
Jhado Tulku Rinpoche's biography
Ven. Jhado Tulku Rinpoche was born in 1954 in the nomadic family living in Namtso Lake, 220 kilometers away from Lhasa, Tibet. At the age of three he was recognized and enthroned as the 6th incarnation of the abbot of Jhado Monastery. After leaving Tibet in 1959, Rinpoche lived in Nepal a short time and then spent several years in Dalhausie and Dharamsala in North India where he completed his basic studies in Tibetan reading, writing and reciting Buddhist texts. In 1964 Rinpoche took initial monastic vows from His Holiness the Dalai Lama and in 1973 he took complete ordination from Ling Rinpoche.
From 1972 to 1990 Rinpoche studied at Sera Je Monastery in South India where he received extensive teachings from many great lamas such as the great master Lobsang Wangchuk (a former abbot), Ven. Lobsang Tsering and others. In 1991 he got the Geshe Lharampa degree, the highest academic degree in Gelug tradition. He continued his studies at Gyuto Tantric College in Dharamsala.
From 1992 to 1996 Rinpoche served as a teacher at Namgyal Monastery in Dharamsala, the personal monastery of His Holiness the Dalai Lama. In 1997 Rinpoche received many transmissions, dedications and comments from His Holiness the Dalai Lama Himself and His tutors, and from the masters of other Buddhist traditions: Tsulshik Rinpoche and Chogye Trichen Rinpoche, masters of the Nyingma school.
From 2012 to 2017 Jhado Rinpoche was the rector of Gyuto Tantric College as appointed by His Holiness the 14th Dalai Lama. Nowadays Jhado Tulku Rinpoche is one of the most esteemed lamas in the Gelug lineage who provides a wide range of teachings on the Dharma.
Schedule of Jhado Tulku Rinpoche's teachings
17.05.2018, Thursday
19:00 -21:00 – Public lecture "How to be Happy and Live in Harmony in Hard Times".
18.05.2018, Friday
18:00 -19:00 – Comments on Je Tsonkapa's text "The Foundation of all Good Qualities"
19:00 - 21:00 – White Tara preliminary initiation.
19.05.2018, Saturday
11:00 -13:00 – Comments on Je Tsonkapa's text "The Foundation of all Good Qualities" (continuation)
13:00 -14:30 - lunch-break
14:30 - 17:00 – White Tara basic initiation
Venue of the teachings in Moscow:
Omega Conference Room, Hotel ASTRUS -
The Central House of Tourist, 146 Leninsky prospect, Yugo-Zapadnaya metro-station.
Admission is free for all wishing to receive the teachings.
Please, register for participation by phone or on the Center "Four Noble Truths" website.
Any volunteer assistance or free offerings during the teachings are welcomed.
Contacts:
Liliya Laidyp, tel. +7 915 083 7047
Margaret Yudina, tel. +7 964 570 3145
Dmitry Kolmykov, tel. +7 964 791 5862
The organizer of the teachings: the Center "Four Noble Truths" under spiritual guidance of Ven. Geshe Nawang Tukje with support of Telo Tulku Rinpoche, the Honorable Representative of the Dalai Lama in Russia and Mongolia, and Tibet Culture and Information Center.